October 2000
31 October: United Nations Secretary-General Kofi Annan has informed the
Security Council of his intention to appoint Kenyan Lieutenant-General Daniel Ishmael Opande to lead the UNAMSIL force in Sierra Leone, Annan's spokesman said on Tuesday. Opande, currently Kenya's Vice Chief of General Staff, has participated in peacekeeping missions in Liberia (UNOMSIL, 1993-1995), where he served as Chief Military Observer, and in Namibia (UNTAG, 1989-1990), where he was Deputy Force Commander. He was also a key negotiator in the Mozambican peace process (1990-1993) between Renamo and the government of Mozambique. In May, he part in a high-level fact-finding mission to Sierra Leone in June after RUF rebels abducted more than 500 U.N. peacekeeping troops. Opande replaces Major-General Vijay Kumar Jetley of India, who left Sierra Leone in August after a confidential report he wrote critical of Nigerian military and political officials was circulated at the U.N. The naming of Opande is the first of three appointments to overhaul UNAMSIL's leadership, Annan's spokesman said.
Ghana will contribute an additional battalion to the UNAMSIL force, U.N. officials said on Tuesday.
Former AFRC leader Johnny Paul Koroma has portrayed himself as a man of peace
who nevertheless was compelled to lead the military junta which overthrew Sierra Leone's civilian government in May 1997. "It just happened that I found myself in a situation wherein...I was surrounded by evil. And I was trying all my best to make sure things go the right way," Koroma told the BBC in a pre-recorded interview broadcast on Tuesday. "The soldiers by then were planning to kill all the politicians and the senior officers. I prevented them from doing that. Had I not been in their midst at that time it will have been very, very bloody." Koroma said he had become a born-again Christian while in prison following an earlier coup attempt in September 1996, and that later, while in the jungle, an angel had appeared to him. "I will not elaborate on that. But all what I can tell you is that I am having personal contacts with God," he said. Koroma insisted that he had stayed on as junta leader because of threats to himself and the risk to his family if he had tried to leave the country. "I was trying by all possible means to make sure, by my own power and the power of God, to stop things from going bad because by then there was the RUF, and when the RUF came there were some of them who were trying to even take over again. And we were faced with all that," he said. "So if I had abandoned that situation at that time then it will have been very, very chaotic, more than it was."
This Sierra Leone government and the RUF will meet in Bamako, Mali "very soon" to discuss a proposal for a new cease-fire, Reuters reported on Tuesday, citing a UNAMSIL spokesman. "Because the Lomé Peace Agreement has broken down since May this year, something concrete has to be put in place and that is a concrete cease-fire which all the parties involved can respect," the spokesman was quoted as saying on Monday. No date has been set for the talks. Meanwhile, there have been new reports of RUF attacks on villages near the towns of Lunsar and Kabala. Military officials were quoted as saying 25 people were killed and several hundred homes burned, causing residents to flee the area. There has been no independent confirmation of the report. The officials told Reuters the RUF had attacked the villages after young men and women refused to join the rebels. However the Associated Press quoted the Sierra Leone Army's Director of Media Relations, Major John Milton, as saying the attacks were launched to steal food. UNAMSIL military spokesman Lieutenant-Commander Patrick Coker said the RUF and the Kamajors clashed twice last week, but he added that much of the fighting appeared to have occurred when RUF and Kamajor patrols stumbled into one another. The Joint Task Force said Tuesday that RUF activities in the border area around Gberia Fotombu in Sulima Chiefdom had forced residents to flee their homes. A spokesperson told the Sierra Leone Web that RUF rebels were reported to be south of the Guinean town of Madinawulla, in a Sierra Leonean village called Sainya.
Former Assistant Peace Corps Director Saidu Turay died Sunday in Freetown after a long illness, according to a statement by the Washington, D.C.-based group Friends of Sierra Leone. Turay spent most of his career working for Peace Corps Sierra Leone until the Peace Corps pulled out of the country in 1992 in view of the worsening security situation. After the May 1997 coup, Turay joined the AFRC military junta, first as Commissioner of Information and then, in December 1997, as Deputy Secretary of State for Foreign Affairs.
30 October: British Defence Secretary Geoff Hoon told Parliament Monday that

Britain would deploy a naval task force off the coast of Sierra Leone for a limited time in November as a gesture of support for the UNAMSIL force. The task force will include the amphibious helicopter carrier HMS Ocean, which was first sent to Sierra Leone last May, backed by the landing ship HMS Fearless, three Royal Fleet Auxiliary vessels, and the 42 Marine Commando. "While in the area, the group will be able to practice procedures and conduct a detailed reconnaissance, both of which will significantly reduce the time needed to deploy should the reaction force be needed in future," Hoon told the House of Commons. He gave assurances that British troops would not become directly involved in any fighting. The primary purpose of British forces going to Sierra Leone is to train the forces of the government of Sierra Leone," he told lawmakers. Hoon also stressed that Britain was not suggesting UNAMSIL was ineffective. "There is no indication that the rebels have taken any new ground," he said. "We have made it clear that the government of Sierra Leone should have effective forces on which they can call. The early training teams have done a tremendous job in making soldiers available to the government of Sierra Leone. Essentially, what we want to see is a situation ultimately in Sierra Leone where the democratically elected government can control their own territory."
British troops of the 1st Battalion Royal Irish Regiment were replaced last week by troops of the 1st Battalion the Prince of Wales Own Regiment, who now take over responsibility for training troops for the restructured Sierra Leone Army at the Benguema Military Training Centre. Meanwhile, the passing out exercise for the latest battalion to complete training will take place on Friday. The spokesman for the British forces in Sierra Leone, Lieutenant-Commander Tony Cramp, told Radio France International that the training was going well. "Some of the troops already trained have already been deployed at the front line in the Lungi and Port Loko area, while others are undergoing continuation training," he said. "What was decided a month or so back was that it was okay just training them in the very basics, but we also needed to give them assistance to learn the much harder skills, and the continuation training is very much reflecting that, so that the product that comes out at the end is capable of going straight to the front line and being an effective soldier." He added that Britain was committed to training 3,000 more troops, which would mean that that most of the SLA soldiers will eventually undergo the training. Cramp also noted that Britain was providing the army with logistical equipment, weapons and ammunition, to include small arms for the troops and possibly some heavier weapons as well. "The first of that equipment has already arrived," he said. "We're expecting a ship to come into Sierra Leone very shortly which will have the bulk of the first load which will include transport and general equipment for the armed forces." Cramp said the Sierra Leonean troops had made "significant advances" and should now be in a position to defend "very robustly" areas under their control. "What we're aiming to do is give Sierra Leone the ability to look after the whole country by itself," he said. "Obviously we'd hope for a peaceful solution to the present conflict, but what we're doing is ensuring that Sierra Leone has the ability to look after itself and if necessary in the future take the fight and take those areas by force if that becomes a requirement."
CCP Chairman and former AFRC leader Johnny Paul Koroma, in a BBC interview
broadcast on Monday, said he no longer controls military forces in Sierra Leone. "I don't have any more fighting men in the bush. They are all out now," he said, adding that the only armed personnel he had were for his personal security. "I don't have any more fighting men. I'm not controlling any territory." Koroma dismissed the West Side Boys militia, which had professed loyalty to him while fighting alongside and then against pro-government forces and harassing civilians, as "a thing of the past." "There are no more West Side Boys," he said. "With the attack from the British (to rescue British military hostages) I think that is over now. Some of them are in prison. Some of them are in DDR camps, and they are no more." The former junta leader called the British presence in Sierra Leone "good and very, very timely." "They've done a lot and I hope that they will not be discouraged and they will continue to do more," he said. "Their presence here has changed a lot of things. Had it not been for their presence, there should have been a lot of underground game by some of these unpatriotic people or so-called politicians, because there are some of them who would have plunged this country to another round of hostility." Koroma pointed to his own efforts in advancing the peace process since he joined the government as CCP chairman. "I've done a lot towards the disarmament process by getting a lot of my men out, a lot of the RUF out, and during the unfortunate incidents of May I was the one that God used to turn the situation around," he said. "And I think with all that, I think the people are very, very happy with me and whatever thing I [sort of] have done in the past, I think they've forgiven me for that."
Ivorian novelist Ahmadou Kourouma was awarded France's second-highest literary award Monday, the Renaudot, for his book "Allah Doesn't Have To" in which he describes wars in Sierra Leone and Liberia as seen through the eyes of a child. Kourouma said he had written his book after children at a conference asked him to write something about tribal wars in Africa.
Consultations on Sierra Leone by the United Nations Security Council scheduled for Monday have been postponed until Council members receive the new report of the
U.N. Secretary-General on UNAMSIL, while is due out this week, a U.N. spokesman said. Meanwhile, Secretary-General Kofi Annan issued an emergency proposal Monday to strengthen U.N. peacekeeping operations with additional support staff and resources to coordinate its 15 current peacekeeping operations around the world. Annan suggested that 249 positions be added next year to enlarge military and civilian police coordination units at United Nations headquarters. The report also recommended transferring 24 positions from other departments to help create a system wide coordination office for peacekeeping. The proposals come in the wake of a report by a U.N.-appointed panel in August, which warned of significant future U.N. peacekeeping failures unless the world body created the equivalent of a ministry of defence.
29 October: The Greek Merchant Marine Ministry said its coast guard arrested four illegal immigrants from Sierra Leone and five from Ethiopia Sunday when they landed on the eastern Aegean island of Kos. The vessel's Turkish captain was also arrested. There was no immediate confirmation of the refugees' nationality. Many would-be immigrants from Africa claim Sierra Leonean citizenship, believing Sierra Leoneans are more likely to be granted asylum because of the civil conflict in the country.
28 October: British Defence Secretary Geoff Hoon is likely to order a naval task force with some 500 Royal Marines back to Sierra Leone, the BBC reported on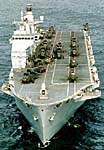 Saturday. The Amphibious Ready Group, led by the helicopter carrier HMS Ocean, is currently on exercises in the Mediterranean and could reach the Sierra Leone coast in a matter of days. The Ocean is expected to be accompanied by two other warships and support vessels. According to the BBC, plans to send the task force "are at a very advanced stage" and the order to deploy could come on Monday. Earlier this month, Britain announced it would increase its troops on the ground in Sierra Leone from around 300 to over 400, and would offer a U.K.-based rapid-reaction capability up to brigade strength — approximately 5,000 personnel. Ministry of Defence sources stressed Saturday that the British troops would remain offshore as a rapid reaction force.
RUF rebels have attacked and burned a number of villages in the Gbinti area, some 15 miles north of Lunsar, according to a statement issued by the Joint Task Force Headquarters in Freetown. The villages were named as Gberi, Ro-bor-bo, Wari and Wula. RUF rebels also attacked the town of Batkanu, but were repelled by the CDF, the statement said.
27 October: The first Certificate of Origin for the export of Sierra Leonean diamonds has been issued to a London-based company, Anaconda Worldwide, the Pan African News Agency reported on Friday. "The new system, which has been approved by the U.N., is designed to ensure that no diamonds going to the international market come from mines controlled by the rebel Revolutionary United Front," a company spokesman said. A U.N. source subsequently told the Sierra Leone Web that, in fact, the first license had gone to Mackie, a Lebanese dealer. Presidential spokesman Septimus Kaikai had been expected to announce the lifting of the embargo Friday at a press conference in Antwerp, Belgium, but he reportedly missed his connecting flight to Brussels in Conakry. With the introduction of the certification system, Belgian Economics Affairs Minister Charles Picque claimed his country was "beyond reproach." "The system will give great credibility to the Belgian government's concern in providing full transparency," he told Reuters. "We have a system that can be put in place in other countries — a system that is completely accurate and credible." Peter Meerus, head of Antwerp's High Diamond Council, said the new system should go a long way toward reducing conflict diamonds on world markets. "I believe if we multiply the system in all the African countries that we will be able to eliminate a huge part of conflict diamonds," he said. "But I cannot predict that in one bush or another this (illicit trade) will not occur." High Diamond Council officials expect to import $5 million in Sierra Leonean diamonds in the coming weeks, as compared to $1.5 million for 1999. But Nicolas Karras, president of Anaconda Worldwide, was skeptical that the certification system would be effective. "It's going to make it more difficult to move large amounts of stones," he said, adding that the RUF had not used official export channels to sell diamonds. "They were smuggled out," he said. He predicted that diamond brokers operating outside of official controls would find new markets for the illicit stones. "New York, Hong Kong, India," he said. "Go down 42nd Street. People there buy diamonds."
The United Nations High Commissioner for Refugees (UNHCR) is studying a
Guinean proposal of six new camp sites which could be used to relocate some 125,000 refugees away from the most insecure areas along the country's borders with Sierra Leone and Liberia, a UNHCR spokesman said on Friday. According to the Guinean authorities, there have been 15 cross-border attacks in the area since September resulting in 360 deaths. Two of the proposed sites were rejected — one because of its proximity to a forest reserve and the other because local residents refused to host the refugees. The other four sites can each accommodate 25,000 people without causing damage to the environment. An assessment mission has been sent to the area to determine the cost of developing the proposed sites, all of them located in the Kissidougou area some 100 km. from the border. In 1999 the UNHCR and its partners began moving 20,000 refugees from border areas in Gueckedou, but the project was put on hold because of a lack of funds, the spokesman said. Discussions are also underway to relocate up to 30,000 refugees from areas of Forecariah Prefecture only 30 km. from the Sierra Leone border. Meanwhile, a UNHCR technical mission to Kissidougou and Gueckedou last week found less harassment of refugees by young vigilantes at checkpoints. The mission determined there had been few incidents in the camps themselves despite continuing rumours of possible attacks in the Gueckedou area. UNHCR's medical coordinator warned of a "deteriorating medical situation" in the camps. Food distribution has now resumed, with 27,000 beneficiaries receiving supplies at Forecariah between October 17 and 21. Next week distributions will resume in Gueckedou with deliveries for 43,000 beneficiaries, the spokesman said. Most of the refugees in Gueckedou have not received food since the June-August period.
Eight Sierra Leonean amputees, six of them child victims of the country's nine-year civil conflict, will meet at United Nations headquarters Friday afternoon with the Special Representative of the Secretary-General for Children and Armed Conflict, Olara Otunnu. Also invited to the briefing are "key actors" — U.N. staff members and representatives of non-governmental organisations — who could potentially collaborate in support of physical and social rehabilitation of young amputees in Sierra Leone. The amputees were brought to the United States last month for medical treatment by Washington-based Friends of Sierra Leone, in conjunction with Rotary clubs in New York and ARIMED, a prosthetics company. The groups have expressed the hope that their presence will draw attention to the crisis in Sierra Leone, and to the plight of the hundreds of thousands of Sierra Leoneans affected by the war.
Medècins sans Frontiéres - Belgium has reported that a deterioration of the food security situation in the government-held town of Bumbuna, according to the latest

emergency report by the United Nations World Food Programme (WFP). During the week, the MSF evacuated eleven severely malnourished children to a therapeutic feeding centre in Freetown. Bumbuna is surrounded by RUF-held areas and is only accessible by air. The WFP's delivery capacity is limited to a single helicopter with a capacity of 1.6 tons — insufficient to meet the needs of the most vulnerable, which is estimated at 27 tons. During the past week, the WFP delivered 945 tons of food to 50,700 beneficiaries in Freetown, Bo and Kenema, despite having to cut back operations due to a serious shortfall in cereals. Future shortfalls are currently estimated at 1,858 tons for the months of November and December. The WFP also delivered 25 tons of food to Daru with the help of a UNAMSIL helicopter. This was the first delivery to Daru in four months due to access problems, the WFP said. The food was distributed to 2,500 school children and 80 child ex-combatants. The WFP noted reports by the U.N. of an increase in fighting between the RUF and the CDF, with attacks reported at Batkanu and in villages northeast of Yele. "Fighting also erupted in villages near Monghere, 27 miles north of Bo, but it was unclear if it was between RUF and CDF, or internal within RUF," the WFP said.
The United States Department of Agriculture authorised $14 million in credit guarantees Friday for 21 African countries, including Sierra Leone, Benin, Burkina Faso, Cameroon, Cape Verde, Central African Republic, Chad, Congo, Ivory Coast, Gabon, Gambia, Ghana, Guinea-Bissau, Guinea, Liberia, Mali, Mauritania, Nigeria, Niger, Senegal and Togo.
In an interview with IRIN, the U.N. Integrated Regional Information Network, the United Nations Secretary-General's Special Advisor on Africa called the situation in
Sierra Leone "very complicated." Ibrahim Gambari said the main issues were how to extend the government's authority throughout the country and bring the diamond-producing areas under government control, while finding a way to deal politically with the RUF. Gambari also pointed to the question of the Special Court to try those most responsible for atrocities in Sierra Leone and the problem of finding ways to expand the size of the U.N. peacekeeping force. "Finally, you have the regional dimension where you have all kinds of military action and border problems between Liberia, Guinea and Sierra Leone," he said. "The sub-region is awash with weapons, it is awash with all kinds of militias, it is awash with refugees criss-crossing the border and it is very important that all this be looked at in a very holistic, regional context."
Exchange rates for the leone against the U.S. dollar and pound sterling, posted in Freetown on Friday: [Buying / Selling] Standard Chartered Bank: [$] 1950 / 2300. [£] 2750 / 3045. Commercial Bank: [$] 1850 / 2100. [£] 2700 / 3045. Frandia: [$] 2150 / 2300 [£] 3000 / 3500. Continental: [$] 2150 / 2300 [£] 2950 / 3350.
26 October: President Kabbah declined to say whether he would be a candidate in presidential and parliamentary elections scheduled for next year, but in a BBC

interview broadcast on Thursday he told reporter Josephine Hazley that he was tired and wanted to rest. "I'm a human being. I came home to retire. Ask my friends. Some of my friends, they will tell you. What I told them when I came home, I said don't go get involved in politics," he said. Kabbah insisted he had been drawn into politics under pressure, and at the time he said he regarded his participation as a national service. But he turned aside a question on whether he had decided not to seek a second term. "The question you've just asked me, and I also asked friends, 'why don't you try?' People keep saying 'who else will do it?' And I'm not arrogant enough to accept that. I will not accept that. I know there are many, many, many Sierra Leoneans who will do it who are qualified — far better. But the question is our attitude in the country towards leaders. Our attitude towards people who are trying to help to rebuild our country — so bad that very few people are prepared to really come up and say 'yes, I'm interested'." As to the timing of next year's elections, Kabbah hinted he might seek parliamentary approval under Article 49(2) of the constitution, which provides that elections might be delayed "if Sierra Leone is at war in which the national territory is physically involved, and the president considers that it is not practicable to hold elections." No such extension may exceed a period of six months at any one time, and any delay in holding the elections would require a resolution by Parliament. Kabbah told Hazley he would only be prepared to request a single six-month extension. "But then the recent Security Council mission in their report said that most people feel that that's unrealistic, that we cannot really be back to normalcy and have enough peace and stability to organize a free and fair election within that period," he said. "I'll wait and see how the situation evolves. Maybe I'm too optimistic. But I really would prefer for the people of Sierra Leone to decide on the people who they want to rule them, and within the time that is provided for by the constitution."
RUF rebels have destroyed a number of villages to the southeast and west of Kabala in the past few days, according to a statement by the Joint Task Force Headquarters in Freetown. The villages were named as Kamandugu [Kamadu], Sokurella, Samgbrmba [Sambangbaya], Nanven [Nafanye] and Komoia [Komoya].
Representatives of 36 diamond producing, processing and importing nations ended a two-day conference in London Thursday by resolving to work to end the trade in "conflict diamonds," blamed for fueling conflicts in Africa. In a statement, the participants emphasised the urgency of taking action, "given the suffering and misery caused by the link to the illegal arms trade" and said they "welcomed the start of a broader process to address the problem" — a reference to an international certification scheme to restrict illicit gemstones from reaching international markets. World Diamond Council Chairman Eli Izhakhoff was quoted as saying the meeting brought closer a workable system of import and export controls on rough diamonds. Meanwhile, South African Minister of Minerals and Energy Phumzile Mlambo Ngcuka criticised the London conference, accusing Britain of ignoring a process agreed upon last month in Pretoria. Her spokesman, Kanyo Gqulu, told the U.N. Integrated Regional Information Network (IRIN) that the London conference was to have been preceded by a U.N. resolution tabled by South Africa. "Countries agreed to a process and they are sticking to it. With Britain unilaterally deciding to do this they know that other countries might not be able to come on board," Gqulu said. Russia, which was expected to co-host the London conference, also stayed away.
United States Congressman Tony Hall on Thursday welcomed the inclusion of a provision in a House appropriations bill aimed at curbing import into the United
States of so-called "conflict diamonds." Hall expressed regret, however, that an alternative bill which he had negotiated with all sides, nicknamed "CARAT," had not been acted on. Last year Hall and Representative Frank Wolf visited Sierra Leone, where they met atrocity victims at the Murray Town Amputee Camp. Since their return, Hall and Wolf have pressed for legislation which would eliminate the sale of the illicit gems in the U.S., which buys some 65 percent of the world's diamonds. "In Sierra Leone, Angola, the Democratic Republic of Congo, and until recently in Liberia, rebels are waging war not for ethnic or religious or political reasons – but solely for greed," Hall said in an extension of his remarks to the House. "Rag-tag gangs transformed themselves into well-equipped armies by seizing diamond-rich land, driving people living there out of their homes or killing them, and then selling the gems they stole to an industry that couldn't be bothered to do anything about a trade they knew was devastating." Hall expressed concern at reports the administration would not enforce the provision of the bill, authored by Senator Judd Gregg, to curtail the import of "conflict diamonds," calling it an attempt by the diamond industry to renege on the compromise it had agreed to. "The diamond industry and — until just hours ago this administration — have been far too cavalier about responding to this problem before consumers begin to boycott diamonds," Hall warned.
The European Commission announced Thursday 1.5 million euros ($1.2 million) in humanitarian food aid to Sierra Leone. The European Commission is the executive agency of the European Union. The food security programme, which will mainly benefit persons displaced by conflict, will be administered by the International Committee of the Red Cross.
25 October: British Foreign Office Minister of State for Africa Peter Hain called Wednesday for a stepped-up initiative to curb the trade in "conflict diamonds,"
blamed for fueling wars in Sierra Leone, Angola and the Democratic Republic of Congo. "We need decisive international action to break the link between diamonds and conflict," Hain told representatives from 39 countries in his opening address at a two-day conference in London. Last month members of the so-called Kimberley Group meeting in South Africa resolved to adopt measures aimed at limiting the illicit diamond trade, which included plans for diamond-producing nations to ship rough stones in sealed packages, accompanied by certificates of origin. Hain appealed to other countries involved in the diamond trade — countries such as Australia and New Zealand — to adopt the measures as well. The minister told of his visit to the Murray Town Amputee Camp, home to several hundred amputees and their families in a suburb of Freetown. "No one who met the women who had seen the rebels lop off the arms and legs of their children could fail to be moved. And no one could see those children and not be angered," he said. He added that the atrocities had been fueled and paid for by diamonds which should be helping to improve the quality of the victims' lives.
Jordan was scheduled to brief the United Nations Security Council Wednesday on

its decision to pull Jordanian troops out of UNAMSIL. A spokesman for U.N. Secretary-General Kofi Annan said Wednesday that Jordan had hoped that more developed countries would have joined the peacekeeping force. Jordan's decision raises "a very serious question" about U.N. peacekeeping operations, Annan was quoted as saying. "Can the (Security Council) adopt resolutions that require us to deploy troops and those in the Council do nothing, particularly those major-league countries with large forces,?" he asked. "Is the question posed by Jordan going to be posed in future operations?" The spokesman said Annan would appoint a new force commander to replace Major-General Vijay Jetley in the next few days.
Last month Guinean President Lansana Conte unleashed a wave of harassment against foreigners, most of them Sierra Leonean and Liberian refugees, after accusing them of collaborating with rebels responsible for cross-border attacks into Guinean territory. Thousands of Sierra Leonean refugees have since fled Guinea for what they hope is the relative safety of their own country. Estimates of the number of Sierra Leonean refugees currently in Guinea range from about 300,000 to more than 330,000, and the United Nations High Commissioner for Refugees has

expressed concern that returnees who fled from RUF-held areas will again face insecurity at the hands of the rebels. But in a BBC interview broadcast on Wednesday, President Kabbah suggested that most of the Sierra Leoneans remaining in Guinea had ties to rebel groups. "We had many people in Guinea, and when we came back home most of them came back," Kabbah told BBC reporter Josephine Hazley. "Those that remained were mainly those who have some association with AFRC or with the RUF, and also those who wanted to migrate to the United States. So when we found out that they were in some difficulty there we decided, fine, we'll arrange for them to come back home but we had to screen them so that we didn't bring in more rebels into Freetown." Kabbah said he had received assurances from President Conte the refugees would be protected and, where necessary, provided with food. "Some of these people who have been living on the border with Guinea and Sierra Leone have been collaborating with the rebels," he said. "In one or two instances the police have arrested people who were buying petrol and other supplies for the rebels, and they have been spying on what's happening to take news back to the rebels. And if they are all that clean and loyal Sierra Leoneans, they moved away from the front. But the fact that they were at the front with the rebels is highly suggestive." Kabbah noted that Sierra Leone was "boxed in" between Liberia and Guinea, and he indicated it would not be in Sierra Leone's best interest to pick a fight with Guinea over the treatment of refugees. "People want me to go out and attack, or quarrel with the Guineans, so that we will be left in such a situation that the only exit that we shall have strategically from Sierra Leone will be the Atlantic Ocean," he said. "About 90 percent of us do not know how to swim. How do we get out? It's simple."
24 October: Jordan has announced its intention to withdraw from the United Nations peacekeeping force in Sierra Leone, a U.N. spokesman said on Tuesday. Marie Okabe, the Associate Spokesman for U.N. Secretary-General Kofi Annan, said Jordan had officially notified Annan of its decision in a letter on Friday. She said Under-Secretary-General for Peacekeeping Operations Jean-Marie Guehenno was meeting with the Jordanian ambassador Tuesday to ask that his country be flexible about the timing of the pullout. Jordan, with 1,753 troops and other support staff on the ground, was the third largest troop contributor to UNAMSIL after Nigeria and India. Last month, India announced a phased withdrawal of its 3,059-member contingent from Sierra Leone.
The restructured Sierra Leone will begin to receive some £27 million in British-
supplied military and logistic equipment at the end of the week, according to Brigadier David Richards, the commander of British forces in Sierra Leone. "This is not just for the short term," Richards told Radio France International (RFI). "If it's required it will be used in fighting now. But it's also so the army of a future Sierra Leone can be proud of itself and fully integrated, reflecting all the old factions." An RUF spokesman, identified by RFI as RUF Chief of Administration Jonathan Jim Kposowa, reacted by accusing government troops of preparing to attack rebel positions "like Makeni, Magburaka and other areas that are under our full control" in breach of the Lomé Peace Accord. "The agreement was that we should have a complete confidence-building and come together so that we can revisit the Lomé Peace Accord," Kposowa said. "With this in mind we are sitting now waiting while people are planning differently." Richards, however, dismissed the RUF's concerns. "I should make quite clear that we are as keen in the U.K. on a ceasefire, properly implemented, as I understand many elements of the RUF are," he said. "The reason the British are committed to training a new Sierra Leone Army that could indeed include elements of the RUF if they wish to enter the peace process even now, is because historically you cannot always rely on people to live up to their word, and therefore we need to develop the extra incentive, if you like, to make sure that people who say they are keen on a ceasefire can have it implemented successfully downstream." Referring to recent RUF cross-border attacks into Guinea, Richards noted that the Sierra Leone conflict was a regional issue and that events in Guinea and Liberia had to be taken into account. "I understand that the RUF leadership — Issa Sesay and others — are cognizant of the fact that the ECOWAS-brokered ceasefire, should it be pursued, includes a total cessation of hostilities across all fronts," he said. "And I personally was in Conakry only ten days ago and I know that the president of Guinea is prepared, should the RUF accept a ceasefire on all fronts, to abide by it himself."
Britain's outgoing Chief of Defence Staff, General Sir Charles Guthrie, began a two-

day visit to Sierra Leone Tuesday, where he was expected to meet with government leaders and British forces stationed in the country. Following separate meetings with Acting Chief of Defence Staff Colonel Tom Carew and President Kabbah, Guthrie drove to the Benguema Military Training Centre, where British troops are training recruits for the restructured Sierra Leone Army. He later visited Port Loko for informal meetings with "people on the ground" to gain first hand information to be included in a report to British Prime Minister Tony Blair, according to British military spokesman Lieutenant-Commander Tony Cramp. Guthrie is due to be replaced by Chief of Naval Staff Sir Michael Boyce in February.
23 October: RUF rebels attacked the Kamajor stronghold of Monghere overnight Sunday, CDF sources told the BBC. There has been no independent confirmation, and an RUF spokesman denied the attack. Monghere, which is located some 27 miles north of Bo, is reported to be the site of a Kamajor training base. "According to my sources the rebels, whose exact number was not known, attacked from the direction of Yele and Matotoka further north," BBC correspondent Lansana Fofana said. "Fighting went on between the two sides all night long, but casualty figures are yet to be disclosed...I understand that the CDF have brought in reinforcements from Kamajor battalions stationed in Bo and are now combing the area for rebels who may be hiding in the bush." RUF spokesman Gibril Massaquoi, however, denied that the attack took place. "We have not attacked them. We are not even around that area," he said. "It's a ploy to attack the RUF. They are training there to attack our positions." He said the RUF had communicated with ECOWAS to complain about CDF training exercises in Monghere. "We have not attacked there, we are not even around the area," he said. "We only occupy the Masingbi - Jaiama Sewafe highway and few villages from there. That is over 40 kilometres from Bo." Massaquoi insisted the RUF had not carried out attacks for the past three months. "All we are doing is communicating with ECOWAS to see how best they could declare a cease-fire and we will return back to the Lomé Accord. That's all," he said.
On November 7, Americans will learn whether two men with close ties to Sierra Leone have been elected to the U.S. Congress. Michael Kelleher, the Democratic nominee in Illinois' 15th District, and half a continent away, Brian Boquist, the Republican party's hopeful in the 5th District of Oregon, both hope to unseat incumbents. Either, if elected, could be expected to exert significant influence on U.S. policy toward Sierra Leone. And both care deeply about the war-torn West
African country. But there the resemblance between the two ends. Kelleher and Boquist come from very different backgrounds and represent contrasting political philosophies. After graduating from Illinois State University, Kelleher (pictured left) joined the Peace Corps and served for more than three years as a community health worker in Ngelehun, Badjia Chiefdom. Upon his return to the United States he worked for three years in Washington, D.C. as a Senate and House congressional aide, and studied for a Masters Degree in International Development at American University. Since 1996, Kelleher has taught courses in American
government and economic development at his alma mater, Illinois State University. The Kelleher campaign did not respond to questions from the Sierra Leone Web. Boquist (pictured right) holds a B.S. degree from Western Oregon State College and an M.A. in Business Administration and Ethics from Oregon State University, but his background has been primarily in the military and in small business. Formerly a lieutenant-colonel in the U.S. Army Special Forces and currently a U.S. Army Reserve officer, Boquist has been since 1993 executive vice president of International Charter Incorporated (ICI), a State Department subcontractor which has provided logistic support to U.S.-supported peacekeeping efforts in Haiti, Liberia and, since 1997, in Sierra Leone. Boquist, who worked in support of the ECOMOG force, is highly skeptical of efforts by the United Nations and the United States to restore peace in the country. "We need to boot the U.N. out of Sierra Leone, and get a regional force back in immediately," he told the Sierra Leone Web. "Regardless of thoughts, the U.N. is not going to succeed, nor are Western nations going to send in troops." Boquist stressed the importance of West African stability to American interests, but he said he would oppose sending U.S. troops to Sierra Leone, except as observers. "The key to regional success is to tie international logistics to outcomes, including a monitor on corruption and lack of success of certain commanders," he said. "Liberia worked in the end because this effort was well coordinated. It failed in Sierra Leone because it was not coordinated at all — and outcome was not even in the picture...The sad part is the people of Sierra Leone simply continue to suffer while we wring our hands."
22 October: U.S. Ambassador to Sierra Leone Joseph Melrose Jr. was awarded an honorary Doctorate of Laws Thursday by his alma mater, Ursinus College, in
Collegeville, Pennsylvania, according to the Philadelphia Times Herald. Melrose, a career diplomat who took up the post in Freetown in 1998, received a degree in political science from Ursinus in 1966. He earned a Masters Degree from Temple University in 1969. In his acceptance speech, Melrose said Sierra Leone was known for the world's most brutal war in decades — a conflict which has now spread across the border to neighbouring countries. "Sierra Leone is different: They are not fighting a tribal or religious war, rather a war of the control of diamonds," he said. "RUF is still in control of 60 percent of the land and most of the diamond mines." Melrose acknowledged that a diamond certification system being set up in Freetown with the aim of denying the RUF revenue from illicit diamond sales would not be perfect. "There are going to be leaks," he said. "But it is the best we have come up with yet." The ambassador stressed that foreign aid would ultimately be insufficient to solve Sierra Leone's problems. "Unless the people of Sierra Leone have a way to feed their families that does not involve a gun or stealing of diamonds, the solution is only temporary," he said, adding: "The assistance the U.S. has provided in the past year is greater than the sum of all others."
20 October: Sierra Leone will begin legal exports of diamonds next week for the first time in more than three months, Mineral Resources Minister Mohamed Swarray Deen said on Friday. In July, the United Nations Security Council imposed a global ban on the sale of Sierra Leonean rough diamonds until certification system could be put in place, in order to make it more difficult for RUF rebels to finance arms purchases through illicit diamond mining. Deen told Reuters that the diamonds to be sold next week had been in the possession of the government's gold and diamond office since mid-July. The new certification system will be implemented in November, he added. Deen also said the export tax on diamonds had been reduced from five percent to three percent. "The response from business people has been very positive as they are now determined to go through the legal system rather than attempt to smuggle and risk getting caught," he said.
The human rights group Amnesty International said Friday that a Special Court
being established for Sierra Leone should have the power to prosecute anyone who recruited children as combatants, regardless as to whether the recruitment was forced or voluntary. As it currently stands, the draft statute of the court specifies "abduction and forced recruitment of children under the age of 15 years into armed forces or groups for the purpose of using them to participate actively in hostilities" as one of the violations of international humanitarian law over which the court will have jurisdiction. But Amnesty International noted that the restriction to abduction and forced recruitment undermines international standards, which specify that any recruitment of children under the age of 15 is a crime. "The statute of the Special Court should be amended to conform with international law," the group said in a statement. Thousands of children have fought on all sides during Sierra Leone's nine-year civil conflict. Many of them were abducted and forced to fight by the RUF and the AFRC. On the controversial issue as to whether child combatants between the ages of 15 and 18 might be prosecuted, as U.N. Secretary-General Kofi Annan has advocated, Amnesty International said justice and accountability was necessary for the victims and for Sierra Leonean society as a whole. "There may be cases where child soldiers aged between 15 and 18 were in control of their actions and committed crimes without coercion or duress and it may be appropriate for them to be held accountable for these crimes," the statement said. Amnesty International added that international standards for trying children under age 18 must be adhered to. "These standards place the best interests of the child as a priority, recognize the special needs and vulnerabilities of children and place emphasis on rehabilitation and reintegration rather than punishment," the human rights group said.
The U.S. Committee for Refugees (USCR) expressed concern Thursday about the deteriorating security and humanitarian situation in Guinea, and called on the international community to take steps to protect the estimated 400,000 mostly Sierra Leonean and Liberian refugees living in the country. "Uncounted numbers of Guineans have become internally displaced in the widening violence, and the number of uprooted people could grow if attacks continue," the USCR said in a press release. The organisation also called on Guinea and the United Nations High Commissioner for Refugees (UNHCR) to identify acceptable new sites and to transfer the refugee camps away from the dangerous border areas, and urged the UNHCR to assign high-level emergency staff to Guinea to augment the efforts of the agency's depleted relief contingent in the country. The estimate of 400,000 refugees is somewhat lower than UNHCR estimates, which put the number in Guinea at approximately 458,000 — 333,000 of them from Sierra Leone and 125,000 from Liberia. USCR Senior Africa Policy Analyst Jeff Drumtra told the Sierra Leone Web Friday that the UNHCR numbers were likely somewhat inflated, while emphasising the difficulty of achieving accurate accounts. "There are tens of thousands of double-counted refugees, and thousands upon thousands of refugees who do not get counted at all," he said. Drumtra said the USCR numbers were based on the estimate that there were currently 100,000 or fewer Liberian refugees in Guinea, while the number of Sierra Leonean refugees was probably closer to 300,000, "particularly after thousands of Sierra Leonean refugees have left under duress to go back to Sierra Leone."
The United Nations World Food Programme (WFP) has made its first delivery to the eastern town of Daru in three months, a U.N. spokesman said in New York. Daru is surrounded by the RUF and is only accessible by air.
Refugee camps along Guinea's border with Sierra Leone and Liberia remain inaccessible to humanitarian agencies due to security concerns while heavy fighting

was reported in the Sierra Leonean villages of Kaseri, Tumbu, and Kichum, the U.N. World Food Programme (WFP) said in its latest emergency report, released on Friday. A small number of returning refugees and internally displaced persons (IDPs) have continued to arrive in Lungi, reporting attacks and harassment by the military along the way, the WFP said. The returnees said refugees in the Guinean camps were not allowed free movement into and out of the camps, and that once they were allowed to leave the influx of returnees would increase. At Lungi, the WFP has continued to distribute food to returnees and IDPs who fled fighting in Kambia District. A total of 30 tons of food was distributed to 19,989 returning refugees and 27 tons to vulnerable IDPs. Overall, the agency distributed 1,270 tons of food to 116,358 beneficiaries in the country during the week. Meanwhile, WFP food stocks in Sierra Leone have fallen to 5,275 tons, with cereals shortfalls being a main concern. "WFP will have to further reduce its programmes by the end of November if the situation does not improve," the report noted. The WFP concluded distributions to 3,695 beneficiaries on Tasso Island and 2,165 on Pepel Island. The food security situation on the islands is stabilising, and the WFP is planning to stop general distributions and to continue only emergency school feeding. The WFP distributed food to 9,529 beneficiaries in Bo during the past week, including 8,000 school children. A total of 34, 657 beneficiaries in Kenema received WFP-supplied food aid, including over 31,000 school children and 2,335 returnees from Liberia, the report said.
Exchange rates for the leone against the U.S. dollar and pound sterling, posted in Freetown on Friday: [Buying / Selling] Standard Chartered Bank: [$] 1950 / 2450. [£] 2900 / 3400. Commercial Bank: [$] 2000 / 2400. [£] 3000 / 3400. Frandia: [$] 2000 / 2350. [£] 3000 / 3500. Continental: [$] 2150 / 2350 [£] 2950 / 3350.
19 October: At least 100,000 persons have died worldwide this past year as the direct result of armed conflict, with 60 percent of the deaths in Sub-Saharan Africa, according to a report released on Thursday by the London-based International Institute of Strategic Studies (IISS). Efforts to mediate conflicts in Sierra Leone, Ethiopia and Eritrea and in Central Africa "seem at best only to bring a brief respite from all-out fighting," the report said. The IISS also pointed to weaknesses in peacekeeping operations in Sierra Leone and Congo which were identified in September by the so-called Brahimi report. "The long-term aim of the U.N. operation in Sierra Leone is unclear, and the capacity of the U.N. to make a sensible contribution to what is a hugely unstable situation in the Congo is questionable," the IISS said. "Member states are incapable of producing the sometimes very large contingents that a proper operation would require. Equally, the quality of cease-fires, truces, military disengagements and peace arrangements is often too poor to support U.N. deployments in peacekeeping mode." Since Sierra Leone's civil conflict began in 1991, IISS estimates that some 43,000 people have died, Assistant Director Terence Taylor told the Sierra Leone Web. "Our statistics focus on those killed directly by armed conflict, we do not attempt the far more difficult job of assessing the numbers of people that die through secondary causes arising from conflict such as lack of food supplies, failure of medical services and disease," he added. Taylor said the IISS estimates were based on open source reports, talks with the respective governments, information from the International Committee of the Red Cross, and assessments by IISS staff. He acknowledged, however, the difficulty in assembling reliable figures. "Assessments are very hard as combatants exaggerate the casualties of their opponents, and understate those for their own side," he said. "Also some NGOs exaggerate casualties to draw attention to their mostly genuine concerns and objectives."
Nigeria's Federal Executive Council approved Wednesday 1.8 billion naira to purchase logistics items for Nigerian soldiers serving in United Nations peacekeeping forces in Sierra Leone and the Democratic Republic of Congo, Information Minister Jerry Gana said. Gana said the U.N. had promised to refund the amount spent in procuring the items, the Pan African News Agency (PANA) reported.
Zainab Bangura, co-founder and coordinator of the Sierra Leonean civil society group Campaign for Good Governance was one of three persons honoured this year as outstanding human rights advocates by the Lawyers Committee for Human
Rights. "Through her grassroots organizing with women, Ms. Bangura is widely credited with ensuring the success of the 1996 presidential election," the group said in presenting the award. "Because of her work, Ms. Bangura is on the rebels' hit list and has survived three attempts on her life." Hans Dongfang, a Chinese labour activist and journalist, and Albie Sachs, a South African constitutional court justice, were also honoured at Thursday's awards ceremony in New York.
The United Nations Children's Fund (UNICEF) has welcomed cooperation this week by acting RUF leader General Issa Sesay, who agreed to allow health workers safe access to Makeni and Magburaka in order to vaccinate children living in the two rebel-held towns there against polio. "General Issa's moves in taking the programme into areas under his control demonstrated his willingness to work toward the peace process," UNICEF representative Joanna van Gerpen told Reuters. Sierra Leone is looking to vaccinate some 860,000 children this week as part of a regional initiative being conducted simultaneously in sixteen West African countries. The programme, being conducted by the World Health Organisation, UNICEF, the U.S. Centres for Disease Control and Prevention, and Rotary International, aims to eradicate polio worldwide by 2005.
Associated Press correspondent Ian Stewart received the Associated Press Managing Editors feature-writing award Thursday for his account of his recovery after being shot in the head by rebels while covering the rebel attack on Freetown in January 1999. "For war correspondents there is an age-old question: 'Is this story worth risking your life for?,' Stewart wrote in his December 1999 narrative. "There are always some who say yes, lured by both the story and the danger. If some stories are worth the risk, Freetown wasn't one of them....Will I continue to work as a journalist when I am well enough to work? Yes, and most likely I'll go back overseas. Will I risk my life for a story again? No. Not even if the world cares next time." Stewart dedicated his award to AP Television News producer Myles Tierney, who died in the same attack, and to APTN cameraman Miguel Gil Moreno de Mora, who was killed in Sierra Leone last May. Stewart still plans to return to his post overseas. "I want to make the world a little bit better, a little more peaceful," he said.
18 October: A Kenyan general sometimes called "Africa's soldier diplomat" has
been chosen to replace Major-General Vijay Jetley as commander of the UNAMSIL force, according to a report in Kenya's East African Standard newspaper. The paper quoted Julius Sunkuli, Minister of State in the Office of the President in charge of Defence, as saying the government had released Lieutenant-General Daniel Ishmael Opande to take up the appointment at the request of United Nations Secretary-General Kofi Annan. There has been no official confirmation from the United Nations, but the Associated Press quoted Western diplomats as saying Opande had emerged as a leading contender for the job. Opande, currently Kenya's Vice Chief of General Staff, has participated in peacekeeping missions in Liberia, where he served as Deputy Force Commander, and in Namibia, where he was Chief Military Observer. He also took part in a high-level fact-finding mission to Sierra Leone in June after RUF rebels abducted more than 500 U.N. peacekeeping troops. Opande is expected to take up the post in December, the Standard said.
RUF spokesman Gibril Massaquoi criticised the United Nations Security Council delegation which visited Sierra Leone last week for failing to meet with representatives of the rebel group. "This delegation did not talk to RUF at all. They only spoke to Tejan Kabbah and his government in Freetown, and they went and made a series resolutions on the present conflict in Sierra Leone," Massaquoi told Radio France International. "They should have talked to RUF interim leadership (General Issa Sesay) so at least we could know exactly what is happening on the ground, or what preparations do they have so that we push the peace process further. But they failed to do it, and we believe that sidelining us is not auguring well, because we are major stakeholders in the crisis in Sierra Leone." The Security Council delegation's leader, Ambassador Sir Jeremy Greenstock of Britain, ruled out a meeting with RUF leaders, saying the mission's purpose was not to conduct negotiations.
Sierra Leonean and Liberian refugees encamped around the Guinean town of Gueckedou have gone without food for 45 days because poor security in the area has hampered delivery of relief supplies, the U.N. Integrated Regional Information Network (IRIN) reported on Wednesday. "The major problem is food," Chris Ache, the United Nations High Commissioner for Refugees (UNHCR) representative in Conakry said Tuesday. Ache told IRIN that relief agencies would meet on Wednesday to coordinate deliveries to the neediest refugees around Gueckedou. He added that efforts were underway to secure a Guinean military escort. The UNHCR has carried out food distributions in Forecariah Prefecture and is conducting security assessment missions to determine whether it is safe to resume the agency's presence in areas outside of Conakry, Ache said.
17 October: Former AFRC junta leader and CCP chairman Johnny Paul Koroma told reporters Tuesday that plans to set up a Special Court to try those guilty of war
crimes and crimes against humanity in Sierra Leone should be put on hold until the warring groups had been disarmed. "The government and the U.N. must wait until all the guns have been collected from the combatants. Then the special court proceedings can start," Koroma said. The proposed court, which would incorporate both Sierra Leonean and international justices, would be charged with trying those deemed most responsible for abuses in the country's nine-year civil conflict.
A draft report prepared by the U.N. Security Council which visited West Africa this month concludes the Sierra Leone conflict having an "increasingly alarming" impact
on the sub-region, and recommends that the U.N. peacekeeping force be strengthened "in terms of numbers, effectiveness and capability." U.N. Secretary-General Kofi Annan has proposed that the force's authorised size be increased from its current level of 13,000 troops to 20,500. "The complex of problems in Sierra Leone and its neighbours represents an extraordinary challenge, which requires extraordinary action," the report said. The delegation pointed to the role allegedly played by Liberian President Charles Taylor in backing Sierra Leone's RUF rebels, and said it warned Taylor that Liberia's instability and isolation could increase if its activities went beyond its legitimate security interests. "The view was firmly and frequently expressed within Sierra Leone that the cause of many of the country's problems lay in the support provided to Revolutionary United Front by President Taylor, motivated partly by his own political and security concerns and partly by his interest in profits from diamonds mined in Sierra Leone," the report said. "Most of the mission's interlocutors, including those at the most senior levels, had no doubt that President Taylor exercised strong influence, even direct control, over RUF. The delegation also heard varying views as to the strength and intentions of the RUF. "(The prevailing analysis is) RUF is divided into several groups," the report said. "Many interlocutors felt that a significant portion of the rank and file of the RUF would be willing to disarm, but were not allowed to do so by their commanders, who often used brutal methods, including execution, to prevent fighters, including children, from leaving." The report went on to say that only a "sustained and effective military instrument, with the capability to extend its reach throughout the country and following clear political and military objectives," could maintain pressure on the RUF and create incentives for dialogue and disarmament. "To meet these challenges, UNAMSIL must be strengthened in terms of numbers, effectiveness and capability...taking advantage of the offers of further troops from, inter alia, ECOWAS countries," the report added. The Security Council delegation also pointed to the need for a more coordinated and comprehensive strategy among the various groups involved in Sierra Leone. "It is clear that at a minimum the Security Council and the Secretariat, ECOWAS, UNAMSIL troop contributors and the government of Sierra Leone need to consult through some form of continuous structure rather than simply a series of meetings at regular intervals," the delegation stressed.
Schools have reopened in the government-held towns of Kabala and Bumbuna in Northern Province, the Rome-based Missionary Services News Agency (MISNA) reported on Tuesday, quoting Italian missionary priest Fr. Antonio Guiotto. Belgian workers with Medècins sans Frontiéres (Doctors without Borders) also reopened the government hospital in Kabala and the clinic at the Catholic Mission in Bumbuna, he added. Guiotto said that two Italian priests abducted by RUF rebels in the Guinean border town of Pamelap early last month were being held at the Catholic Mission compound at Madina. "(They) are relatively free to move around," he said. "We also know that they are in good health, though Father Mosele, who was involved in a serious car accident last June, will eventually need medical care."
Missouri Governor Mel Carnehan, who died Monday night when his plane crashed in a heavily wooded area, was the son of former U.S. Ambassador to Sierra Leone A.S.J. Carnehan, who served in Freetown during the Kennedy administration, shortly after the country's independence. Mel Carnehan, who was finishing his second term as governor, was a candidate for the U.S. Senate and was on his way to a campaign appearance when the plane went down. His son and a campaign aide were also killed.
A five-day polio immunization campaign which began on Monday aims to vaccinate some 860,000 Sierra Leonean children against the disease, the Ministry of Health and Sanitation said on Tuesday. According to a ministry statement, inoculations are being conducted house-to-house in seven safe districts. In six districts which are deemed unsafe, health officials are conducting traditional National Immunization Days. The campaign is making use of 2,464 vaccination teams and 400 supervisors, and will administer 1.3 million doses of oral vaccine. Health officials said vaccinators were able to enter the RUF-held towns of Makeni and Magburaka for the first time after acting RUF leader General Issa Sesay agreed to cooperation with the programme. On Monday, Sierra Leonean and Liberian health officials cooperated to vaccinate some 2,000 children in the border area in an initiative organised by ECOWAS. Deputy Minister of Health Sidique Brima and Dr. William Aldis, the World Health Organisation's Country Representative in Sierra Leone were on hand, as well as Liberian health ministry officials and representatives from women's groups. The immunization campaign is being undertaken this week simultaneously in sixteen West African countries, and is part of a campaign by WHO, UNICEF, the U.S. Centres for Disease Control and Prevention, and Rotary International to eradicate the disease worldwide by 2005.
A joint technical mission by the United Nations High Commissioner for Refugees (UNHCR) and its partners visited six refugees camps at Kissidougou and
Gueckedou in Guinea over the weekend, where tens of thousands of Sierra Leonean and Liberian refugees have sought shelter. The mission found the situation to be relatively calm, but many of the refugees wanted to return home due to recent violence in the area, a spokesman said. Nutritional problems were noted, especially among young children, along with the increased need for clean water and a better sanitation infrastructure. Food distribution resumed last week at some of the refugee camps in Forecariah and Gueckedou, both located in border areas where the UNHCR and some non-governmental organisations had been forced suspend operations following last month's violence. "In Forecariah, the first distribution benefited the refugees who had fled attacks in the Farmoriah and Dakhagbe camps and sought shelter in Kaliah and Kalako," the spokesman said, adding that some refugees had not received food for two months. Some 2,000 persons were still present at Farmoriah Camp, which previously had housed 4,300 refugees. Another 1,800 had been transferred to Kaliah for safety. Many more refugees returned to Sierra Leone in recent weeks, the UNHCR spokesman said.
16 October: The United Nations Security Council met behind closed doors Monday to discuss a report submitted by the eleven-member Council delegation, which
ended its week-long visit to West Africa on Sunday. Ambassador Sir Jeremy Greenstock of Britain, who led the delegation, summarized the report by saying that if the RUF wanted a political solution to the crisis, the rebel group would need to rethink its future. He added there were indications the RUF was doing this. "As UNAMSIL establishes itself in the west of the country, they no longer have a power vacuum there that provides an incentive to continue the rebellion," Greenstock said. "In power terms they are left with the option of holding on to the diamond fields, as it were, partitioning the country while they steal the diamonds." Greenstock said the delegation concluded a cease-fire would be necessary before there could be any real discussion of a political route out of Sierra Leone's crisis. The cease-fire, he said, would "embrace some withdrawal, perhaps to the Lomé lines, perhaps under a different arrangement; access to humanitarian workers; return of U.N. weapons and various other things." He said there could be an arrangement whereby the RUF would accept UNAMSIL deployment in the diamond mining areas, while the rebel group would come back into the normal political and economic life in the country. "It's under those more benign arrangements, not under a war fighting arrangement, that we imagine UNAMSIL moving into the diamond areas," he said. Greenstock said Liberian President Charles Taylor, who has been accused of backing the RUF, "no longer can exploit the vacuum in Sierra Leone in one way or the other." He stressed that Taylor was more likely to bring stability to his own country and to obtain international assistance to end the rebellion in Liberia and attract help for his own economy if he ceased his support for Sierra Leone's rebels. "It's the judgment of the poacher that if he becomes a gamekeeper he might do better than if he remains a poacher. And that's the calculation that we observed President Taylor is beginning to make," Greenstock said. In separate remarks, Greenstock said the peace process in Sierra Leone "has two tracks: one is military and the other is political," adding: "There must be military pressure on the RUF and those who back them." Greenstock stressed that imprisoned RUF leader Foday Sankoh would have no future role in the peace process. "Sankoh is recognized by everybody to be out of it," he said.
The rift in Sierra Leone's largest opposition party widened Monday when exiled United National People's Party leader Dr. John Karefa-Smart denied the UNPP had joined the "Grand Alliance" of opposition political parties announced in Freetown in August. "While I feel that the proposal for an alliance of opposition parties has much merit so that the folly of fielding too many parties at the next elections will not be repeated, neither I as the party's national leader, nor any one else, can commit the party until the matter had been widely discussed by the party," Karefa-Smart told the Sierra Leone Web. "UNPP...cannot be associated with any movement which sends a massage that it is a regional or ethnic, or tribal, related movement. Our opposition to the SLPP is not based on anything but its failure to treat all parts of the country equally." Karefa-Smart denounced the UNPP's parliamentary representatives who, he said, "took it upon themselves to sign a memorandum of agreement about the Alliance without consulting the Executive of the UNPP in Sierra Leone." Karefa-Smart acknowledged, however, that he had authorised People's Progressive Party leader Abass Bundu to include the UNPP on his Salone Paddy website, which he described last week as "the international mouthpiece" of the Grand Alliance. "(John Karefa-Smart), the acknowledged leader, approved, and the rival leadership in Freetown has raised no objection," Bundu told the Sierra Leone Web. But Karefa-Smart said he regarded the website as a way for opposition political parties to reach the public, and not as "an Alliance undertaking."
President Kabbah has ordered the immediate release of Abdul Kuyateh, editor of the Wisdom newspaper, the Concord Times reported on Monday. "The SLAJ (Sierra Leone Association of Journalists) Executive met with President Kabbah today and pleaded with him to release Abdul Kuyateh," Concord Times publisher Kingsley Lington told the Sierra Leone Web. Kuyateh was detained on May 11 after documents found in Foday Sankoh's ransacked house allegedly linked him to covert dealings with the rebel leader. Kuyateh has been held without charge under Sierra Leone's emergency regulations.
About 250 West Side Boys, 137 AFRC ex-combatants, 16 former RUF fighters and 74 ex-combatants of the SLA are currently going through the DDR process at Lungi, a UNAMSIL spokesperson said on Monday.
15 October: A series of cross-border attacks on Guinean territory from Sierra Leone and Liberia represents an armed invasion of Guinea by Liberia and Burkina Faso using RUF rebel fighters as mercenaries, Guinean Interior and Security Minister Moussa Solano claimed over the weekend. According to the BBC, Solano told journalists that mercenaries captured by Guinean government troops had confessed to this, and said his country found itself effectively in a state of war. The acting commander of UNAMSIL, Brigadier-General Mohammed A. Garba, has blamed the attacks on Guinean dissidents using RUF fighters as surrogates, but Solano rejected this notion, referring to the the spokesman of the so-called Rally of Democratic Forces as a man "living in obscurity." Meanwhile, thousands of Sierra Leoneans are still attempting to leave Guinea, more than a month after a speech by President Lansana Conte set off a wave of attacks against foreigners, BBC correspondent Elizabeth Blunt reported from Conakry. At the weekend the Mahera, a ferry boat owned by the Sierra Leone government, returned to the Guinean capital to take on another load of refugees to Freetown. The Mahera has shuttled between Freetown and Conakry since the crisis began, loading about 1,000 people at a time, plus children, plus baggage, Blunt said. While many of those leaving had been living in the capital, others travelled two days or more from refugee camps in the east of the country. "On some parts of the journey there are checkpoints every two kilometres with soldiers or armed local youths checking papers and baggage and asking for money," Blunt said. "Some men report being stripped naked to check for tattoos. The vigilantes apparently believe that there are marks which identify a rebel." Blunt noted that the refugees faced an uncertain future when they arrived in Sierra Leone. "Their home areas in the north are occupied by RUF rebels, so when they arrive in Freetown they will be stuck, dependant on the charity of friends and relatives or in displaced people's camps," she said. "These are already very crowded, and the number who have returned so far is tiny compared with those still wanting to go."
14 October: Sierra Leonean refugees at camps in Guinea's Forecariah Prefecture are living in a state of fear, BBC correspondent Elizabeth Blunt said Saturday after visiting the area. Blunt said physical conditions in the camps were normal, except for those refugees who had been relocated from camps which were attacked and destroyed last month, notably Farmoriah Camp, where some 4,000 Sierra Leoneans were displaced. Many are still sleeping on the ground or in schools and temporary shelters, she said. But with cross-border clashes contributing to poor security in the area, Blunt stressed that the refugees were frightened. "Every night they say they can hear gunfire," she said. "There've been occasions where the Guinean attack helicopter has actually hovered over the camp and been firing. They have on occasion had a multi-barreled rocket launcher parked right next to it, and when those are fired they go off with the most tremendous din." Blunt said the refugees were confined to the camps by Guinean security forces. "They're arrested if they go out," she said. "And they say they feel trapped. They were refugees and now they feel like prisoners." Despite recent cross-border fighting, Blunt said there didn't seem to be a heavy Guinean military presence in the area, although she noted military training exercises taking place at Forecariah. "But we've also seen the local village committees that have been armed all the way up the road, manning roadblocks and checkpoints with shotguns that the government has given them," she added.
A United Nations Security Council delegation warned Liberian President Charles
Taylor Saturday to stop creating instability in Sierra Leone and to work for peace in the region. "Liberia is perceived, not just by the Security Council, not just by the United States or the United Kingdom, but within the West African sub-region as not playing its part yet for peace," British Ambassador Sir Jeremy Greenstock said after the delegation met with Taylor in Monrovia. "They need trade and an economic relationship and a good image. That is the point we have been trying to put across." Greenstock stressed that a U.N. arms embargo imposed on Liberia during its own civil conflict would not be lifted until Taylor's government began working to bring about peace in Sierra Leone. "The perception is very strong in the region that the flow of arms and diamonds is coming through Liberia," Greenstock said. He added that Taylor had denied the charges. The Liberian government has been accused, most recently by the United States and Britain, of actively supporting Sierra Leone's RUF rebels. In July, U.S. Under-Secretary of State for Political Affairs Thomas Pickering met with Taylor and members of his government in Monrovia and, in a press conference following the meeting, said he warned Taylor there would be "very negative consequences" if Liberia didn't act to play a more positive role in the peace process. Pickering's account of the meeting was verified by former Liberian Information Minister Joe Mulbah, and two days later Taylor lashed out against U.S. "arm-twisting," calling the charges "a diabolical lie." But in a meeting with a U.N. delegation earlier this month, Taylor disputed Pickering's account of the meeting, and denied Pickering had even brought up the subject of Sierra Leone, the Sierra Leone Web has learned. Taylor also accused Nigerian ECOMOG troops of involvement in diamond smuggling. Last week, the U.S. imposed a visa ban on senior members of the Liberian government and their families and withdrew non-essential personnel from the U.S. Embassy in Monrovia, alleging continued Liberian support for the RUF. Taylor reciprocated with a similar ban against U.S. officials. Greenstock, who headed the Security Council delegation, said Saturday the ambassadors raised the possibility with Taylor of U.N. troops being sent to the borders of Liberia, Sierra Leone and Guinea to prevent instability in the region.
Demobilised Kamajor militiamen marched in Bo on Friday, demanding money due them for joining the Disarmament, Demobilisation and Reintegration (DDR) programme, BBC correspondent Sulaiman Momodu said on Saturday. He said the ex-combatants complained they had received none of the $300 Transitional Safety Allowance due them after they surrendered their weapons five months ago, and they suggested the authorities were giving preference to the RUF and the West Side Boys. "The trouble started on Tuesday when most members of the 476 disarmed and demobilised Kamajors in Bo and its environs mobilised themselves, stormed the DDR office, and threatened to set it ablaze if they did not get their money," Momodu told the BBC Focus on Africa programme. He said Deputy Defence Minister Sam Hinga Norman, who also heads the Kamajor militia, and Dr. Francis Kai-Kai, Executive Secretary of the National Committee for Disarmament, Demobilisation and Reintegration (NCDDR), met for several hours with the ex-combatants Friday at Bo Town Hall. In September, the NCDDR announced it was suspending the payment of Transitional Safety Allowance payments because the purpose for which they were paid had been misunderstood.
13 October: United States diplomatic missions in Sierra Leone and a number of other countries have been closed to the public until Monday in the wake of Thursday's terrorist attack in Yemen against the warship USS Cole. Also affected were embassies and consulates in the Middle East, the Persian Gulf region, North Africa, as well as those in Nigeria, Tanzania, Senegal, Mauritania, Djibouti, South Africa, Kenya and Pakistan.
The United Nations Security Council expects to hear a closed-door bringing Monday
on the mission by eleven Council members to Sierra Leone, Guinea, Mali, Liberia and Nigeria, a U.N. spokesman said in New York. Meanwhile, the Security Council delegation was scheduled to meet Friday with Nigerian President Olusegun Obasanjo. The ambassadors will travel to Monrovia Saturday for discussions with Liberian President Charles Taylor and then return to New York on Sunday.
Liberian President Charles Taylor has reacted to the United States' imposition of
visa restrictions against members of his government and their families by announcing similar restrictions against United States officials. "The government of Liberia has also imposed reciprocal actions by denying United States government officials, their families, their wives and spouses visas to enter Liberia," Taylor told reporters Friday at a hastily-arranged press conference in Monrovia. "Liberia has also stated that it reserves the right to consider visa requests for any American embassy official leaving Liberia under these circumstances. That we intend to exercise our right to either approve or deny such a request at the time under the circumstances." The sanctions against Taylor and senior Liberian officials were announced earlier this week by President Clinton because of Liberia's alleged involvement in the illicit guns-for-diamonds trade with Sierra Leone's RUF rebels, a charge Taylor again denied. Taylor also warned that he was planning to crack down on members of his government whose relatives resided in the United States. "The government of Liberia will be looking very seriously in the very few days ahead into all officials of this Liberian government that hold portfolio in this government but have their wives living in the United States," he said. "We are going to consider strong actions where it is necessary for them to bring their spouses back, resign or be fired." According to BBC Monrovia correspondent Jonathan Paye-Layleh, Taylor asserted that his government would soon institute an action to compel the United States government to provide proof of its accusations against Liberia.
The United Nations World Food Programme (WFP) has reduced its interventions in Sierra Leone by 50 percent in view of a shortfall in cereals, and has handed over

temporary responsibility for its main projects to other agencies to ensure that the main emergency activities are implemented, the WFP said in its latest emergency report, issued on Monday. Even at the lower levels of assistance, the WFP estimated that 500-700 tons of food would be required this year. Current stocks of WFP food in Sierra Leone amount to only 5,322 tons. Meanwhile, the WFP distributed food to some 4,000 returned returned refugees moved to new resettlement areas in Lungi. More returnees arrived while the distribution was taking place. As of October 13, 9,949 Sierra Leoneans had returned to Freetown from Conakry and 6,029 had crossed the Guinean border into the Lungi area. Insecurity in the border area continued, with the villages of Kassire, Tombo and Kychom having bombarded from Guinea. At Bumbuna, the WFP provided 31 tons of food to 450 malnourished children and 2,500 vulnerable internally displaced persons (IDPs). UNAMSIL helicopters were used to deliver the food as road transport was impossible due to insecurity in the area. At Mile 91, an inter-agency verification exercise has reduced the number of number of IDP beneficiaries from 38,000 to 30,887. The situation there seems to be stabilising, the WFP report said. At Blama camp, the WFP distributed 167 tons of food to 12,389 IDPs. An additional 2,228 new IDPs and 536 refugees who returned from Liberia over the last month will also be assisted, the WFP said.
International aid workers from the United Nations High Commissioner for Refugees and the International Federation of Red Cross and Red Crescent Societies delivered food to three refugee camps near Forecariah Thursday for the first time since early last month. Humanitarian organisations were forced to suspend operations on behalf of refugees along Guinea's borders with Sierra Leone and Liberia in September due to the deteriorating security situation in the area. BBC correspondent Elizabeth Blunt reported Friday that after a series of cross-border attacks from Sierra Leone, Guinean soldiers had encircled one camp, and refused to allow the refugees to leave to collect food from their farms or to buy it at the market. By the time the first deliveries were made Thursday, she said, some of the camps were completely out of supplies. Following widespread reprisals against foreigners last month by Guinean security forces and civilian vigilantes angered at the attacks on Guinean territory, the three camps closest to the border were completely destroyed. That area, near Pamelap, is still considered too dangerous for civilians to enter. A Red Cross delegate told Blunt that no one knew where the displaced refugees had gone. He said some might have gone to other camps, while others might be in the bush or have fled back across the border to Sierra Leone. He said the Red Cross was delivering a two month supply of food to the camp, as it was possible there might be more attacks and the area could be closed again.
United Nations Secretary-General Kofi Annan has welcomed a British decision to

provide additional military assistance to the Sierra Leone government and to the U.N. peacekeeping force. "In particular, the readiness of a permanent member of the Security Council to deploy, if required, a rapid reaction capability is likely to provide additional confidence to the people of Sierra Leone and demonstrate the resolve of the international community," Annan said through his spokesman in New York.
Ten unexploded bombs lying near Lungi International Airport will be detonated by engineers during a ten-day period beginning on October 16, UNAMSIL's Operations Officer and Liaison Officer for the disposal of bombs and munitions, Squadron Leader Mike Ryan, said on Friday. The operation will be undertaken by the Sierra Leone government, assisted by the U.K., Ryan told reporters in Freetown. He said residents of nearby Kagbeli and Rogbanti villages might be asked to leave their homes for a short time, but he stressed that their homes and property would remain safe.
12 October: Sierra Leone is expected to resume legal diamond exports Thursday, three months after the United Nations Security Council imposed a global ban on
the sale of rough Sierra Leonean diamonds, in an effort to cut off funding to the country's RUF rebel movement. Exports will be controlled by the use of certificates of origin, and by electronic monitoring of tamper-proof parcels each step of the way. In a letter to the World Diamond Council, Mineral Resources Minister Mohamed Swarray Deen said the Sierra Leone government had selected diamond companies from bourses within the trading centres of Belgium, Israel, India, the United States and South Africa as government diamond export agents, a diplomatic source told the Sierra Leone Web. In an interview with BBC correspondent Elizabeth Blunt, Deen explained that the certificates would give the weight of the diamond in carats and its value in dollars, would verify that the the exporter was a legal license holder, and would identify the purchaser, who would have to be a member of the World Diamond Council. "We are taking advantage of the resolution that was passed in Belgium, in Antwerp, in July 2000, which says that they will expel any of their members who violate, knowingly or unknowingly, this resolution," Deen said. In order to prevent illicitly-mined diamonds from reaching the market, the minister noted that the government had a monitoring system in the provinces, but he said the government had asked diamond-mining giant De Beers for assistance in identifying diamonds mined in the RUF-held areas of Kono and Tongo — a task diamond experts have stressed could prove extremely difficult. "If a man brings a parcel where there are clear indications of identification (that the gems were mined in rebel-held areas), they will advise government and government will seize those diamonds," he said. He added that such diamonds would be sold on the tender market in Freetown, with the proceeds going to the government. "We think that the whole solution lies in removing the rebels from these two mining areas, from Kono and Tongo," Deen said. "And I am aware that government, with the help of the United Nations, are doing everything to do that."
The United Nations Under-Secretary-General for Children and Armed Conflict, Olara
Otunnu, has defended a recommendation made last week by Secretary-General Kofi Annan that child combatants guilty of atrocities in Sierra Leone should face trial, as they have in Rwanda. Otunnu's stance has put him at odds with the United Nations Children's Fund (UNICEF) and with human rights groups, who argue that the child soldiers are in many cases themselves the victims of abusive commanders, and often were abducted, drugged and forced to kill. But Otunnu told reporters Thursday it was important for deterrence and reconciliation in Sierra Leone that young people above the age of 15 should be held responsible for their actions if they hadn't been forced to commit atrocities, because they were old enough to know the difference between right and wrong. Otunnu said that while he had worked hard to protect children under the age of 18 from abuse and exploitation, young people must realise that this didn't give them the license to kill.
A United Nations Security Council delegation will return to New York with a "renewed, two-fold commitment" to helping Sierra Leoneans rebuild their future
and to backing U.N. peacekeeping efforts, Ambassador Sir Jeremy Greenstock of Britain told reporters Thursday as the diplomats prepared to depart Sierra Leone. "The Security Council has some important decisions coming up on the future shape, mandate and structure of UNAMSIL, and our determination to make this operation as effective, capable and robust as possible has been reinforced by this visit," Greenstock said. He added that the Security Council would like to see Sierra Leoneans, under their government, "increasingly taking the lead in stabilizing and regenerating their country." The delegation left Freetown for Conakry, where they were scheduled to meet with Guinean President Lansana Conte, and later proceeded on to Bamako for talks with Malian President Alpha Oumar Konare, the current chairman of ECOWAS. The diplomats are scheduled to visit the Nigerian capital of Abuja on Friday for talks with Nigerian leaders and ECOWAS officials, and will also stop in Monrovia, Liberia before returning to New York on Sunday.
The Paris-based Reporters Sans Frontieres (RSF - Reporters Without Borders) condemned this week what it described as an attack against a blind radio broadcaster, Mustapha Bai Atilla, by members of Sierra Leone's Ministry of Transport and Communications. "It is unacceptable that officials from your ministry beat a journalist because of his remarks on the radio," RSF Secretary-General Robert Ménard said Tuesday in an open letter to the minister, Momoh Pujeh. Last week Pujeh filed a letter of complaint with the Sierra Leone Association of Journalists (SLAJ) alleging Atilla had slandered him in an October 3 broadcast on Voice of the Handicap, 96.2 FM. The allegations were referred to SLAJ's disciplinary committee for investigation. According to the RSF account, ministry officials attacked Atilla in the streets of Freetown on Friday. "They forcefully separated the journalist's two guides and beat him up. They told him to 'keep his mouth shut'," Ménard said. He linked the attack to efforts by Atilla to expose corruption at the state-owned Sierra Leone Telecommunications Company (SierraTel). But journalists in Freetown say RSF got the story wrong. "By his own account, the blind journalist Atilla said on his radio today that it was a quarrel he had with somebody in a bar for sitting on an unauthorised seat," one newspaper publisher told the Sierra Leone Web on Wednesday. This account was seconded by SLAJ President Ibrahim El-Tayyib Bah, who told the Sierra Leone Web Thursday that the Association had yet to receive any complaint from Atila over the incident. "But from my own investigations, it was an ordinary bar brawl," Bah said. "According to the radio narrative, this blind guy and his two guards were denied sitting places in a local bar, after which an argument ensued which ended in some fracas. After hearing this radio account, I immediately contacted the bar proprietor who corroborated the above story." Bah said SLAJ was proceeding with disciplinary action against Pasco Temple, the only SLAJ member at the radio station, for "abuse of our code of conduct and refusing to make available materials necessary to conduct investigations" into the allegations. For its part, RSF is standing behind its report. "We got this information from our correspondent in Freetown and I spoke personally to the blind journalist on the phone. We still believe it is a true story," Jean-François Julliard of RSF's Africa Desk told the Sierra Leone Web. Julliard added that RSF had contacted Sierra Leone's Information Minister, Dr. Julius Spencer. "He contested the fact that the journalist exposed corruption of Sierratel and advised us to get in touch with the official anti-corruption commission," he said. "But he never contested the facts. He just said his ministry has never been seized about this story." But Spencer denied Julliard's account. "They did not contact me, and the Minister of Transport and Communication whose ministry officials were alleged to have been involved in the attack had strongly refuted the allegation," Spencer said.
While infant mortality rates have declined globally in recent decades to a current average of 67 deaths per 1,000 live births, a number of countries continue to lag far behind according to a new study by the United Nations World Health Organisation. In Sierra Leone, 312 children die for every 1,000 born; in Niger the figure is 335. Afghanistan records an infant mortality rate of 264, compared to 219 for Malawi, 205 for Guinea and Liberia, 202 for Guinea-Bissau and 201 for Somalia.
U.S. Assistant Secretary of State for African Affairs Susan Rice told a Senate subcommittee Wednesday that American support for the peace process in Sierra
Leone has been "hands on and continuous." Rice told the African Subcommittee that the U.S. had "played an important role" in bringing about last year's Lomé Peace Accord because, she said, "the killing had to cease." But Rice said U.S. involvement in the Lomé talks was limited to participation in a facilitating committee set up by the government of Togo, which included representatives of international organisations, governments and civil society groups asked to make recommendations to be used in the negotiations. She added that the U.S. also had played an important part in establishing the United Nations peacekeeping force in Sierra Leone. But Rice stressed that while it was important to maintain UNAMSIL's troop strength, an increase in the force's size without a strengthening of its mandate would not produce results. "Thus, we will continue to work for a new UNAMSIL resolution that provides a mandate to support the Sierra Leone Army in compelling RUF compliance with its obligation to disarm, demobilise, and reintegrate into society," she told lawmakers. "UNAMSIL's U.S.-trained and equipped West African battalions, once deployed, will form a key component of the enhanced UNAMSIL, and we expect will play an assertive role in countering the RUF. The United States is committed to the success of this mission." Rice also pledged U.S. support for British efforts to train the Sierra Leone Army, which she called "critical to stabilising the situation in that country."
11 October: Sierra Leone's democratic opposition, which last month formed a "Grand Alliance" of opposition political parties, announced Wednesday the launch
of a website in advance of next year's scheduled elections. "The time has come for all and sundry who care about Sierra Leone to stand up with a loud voice and get our nation back on track," said People's Progressive Party leader Abass Bundu (pictured right) in announcing the site. "Members of the democratic opposition in Sierra Leone have decided to come together to make our activities and opinions on current events public." The website, called the Political Alliance for Development and Democracy in Sierra Leone, or Salone Paddy, lists the All People's Congress (APC), the National Democratic Alliance (NDA), the People's Progressive Party (PPP) and the United National People's Party (UNPP).
The American government has banned Liberian government officials and their families from entering the United States because of continued Liberian support for

Sierra Leone's RUF rebels, President Clinton said Wednesday. The ban covers "all persons — and the spouses, children, and parents of all persons — who plan, engage in, or benefit from activities that support the Revolutionary United Front, or that otherwise impede the peace process in Sierra Leone," and applies to Liberian President Charles Taylor, senior members of his government, their closest supporters, and their family members. The U.S. State Department has recalled non-essential staff from the American Embassy in Monrovia, and is advising U.S. citizens against travel to Liberia. The State Department also urged Americans in Liberia to leave that country due to the "unstable security situation" or, if they decided to remain, to be cautious and to stay indoors at night. "The presence of many ill-trained and armed government security personnel continues to constitute a potential danger," the statement said. In July, U.S. Under-Secretary of State for Political Affairs Thomas Pickering delivered a blunt warning to Taylor that he risked U.S. and international sanctions if his government continued its support for the RUF — an accusation Taylor denied. Pickering renewed the threat of sanctions in August, when he complained to Liberian Foreign Minister Monie Captan that there had been "no significant change" in Liberian policy. In his statement Wednesday, Clinton again called on Taylor to end Liberia's trafficking in arms and illicit diamonds, and to use his influence to help restore peace and stability in Sierra Leone. "Members of my administration have repeatedly made this request of President Taylor," he said. "The absence of any positive response from his government leaves us little choice but to impose these restrictions. Only when the Government of Liberia ends its participation in activities that support the RUF will the United States review this policy."
The visiting delegation of United Nations Security Council members travelled to the Lungi area on Wednesday, where peacekeeping contingents from Kenya,
Bangladesh and Zambia, backed by a Russian helicopter attack unit, are defending Freetown, a U.N. spokesman said in New York. After visiting a DDR camp, the delegation went to a camp housing hundreds of former child soldiers. There, 14-year old Al Haj Baba Sewane, who spent three years fighting in northern Sierra Leone before arriving at the camp nine months ago, pleaded with the diplomats to exclude child combatants from the proposed Special Court for Sierra Leone. "We have been forcibly involved in a war we benefited nothing from," he said. "We are pleading as victims that you please involve us in the peace process, and absolutely exclude us from the proposed special court. We have had enough of every bad thing." British Ambassador Sir Jeremy Greenstock, who is heading the Security Council mission, responded that no child regarded as a victim of war would be prosecuted by the court, even if he had taken part in the fighting. Only those bearing the most responsibility for abuses would be liable for indictment, Greenstock was quoted as saying. Earlier Wednesday, the U.N. delegation met with members of Freetown's diplomatic corps, and were also scheduled to meet with international non-governmental organisations, civil society groups, political parties, the National Committee for Disarmament, Demobilisation and Reintegration (NCDDR), the National Commission for Rehabilitation, Reconstruction and Resettlement (NCRRR), Acting Chief of Defence Staff Colonel Tom Carew and Inspector-General of Police Keith Biddle, according to a UNAMSIL spokesperson.
San Jose Earthquakes forward Abdul Thompson Conteh has been selected to receive the inaugural New York Life Humanitarian of the Year Award for his work in
raising awareness about the crisis in his native Sierra Leone. Earlier this year, Conteh announced that he would partner with the Red Cross and the Washington, D.C.-based Friends of Sierra Leone, and would concentrate on raising funds to help those affected by more than nine years of civil conflict. In an interview with the Sierra Leone Web in August, Conteh, who was his team's leading goal scorer during the 2000 season, observed that sports reporters were often now more interested in the situation in Sierra Leone than in soccer during post-game interviews. "I'm proud that people have noticed what I've been trying to do," Conteh said on Monday. "I didn't expect this award, and it's a very big one. I'm thrilled to win it and I will continue to work hard in my efforts to help Sierra Leone." Conteh moved to the United States as a teenager, but played for the Leone Stars from 1994 to 1997, including three African Nations Cup matches in 1996. He has also played for professional teams in Guatemala, Mexico and El Salvador. "With the same warmth and sincerity that Americans used to pressure the U.S. Government to take action in Kosovo, I ask that we do the same for the millions of Africans in Sierra Leone who face the fear of torture and death each morning they awake," Conteh said on receiving the award. "More than anything, I want the country to be stable, so the people can enjoy a normal life."
10 October: Britain will increase the number of its troops on the ground from around 300 to "somewhat over" 400, but its strategy in Sierra Leone will remain
unchanged, Minister of State for Defence Procurement Baroness Symons of Vernham Dean (pictured left) said on Tuesday. "Our principal objective is to ensure that the people of Sierra Leone are offered a realistic prospect of stability and peace, and are freed from the violence of a brutal rebel minority," she said in a statement to the House of Lords. The minister said Britain would provide three further training teams to provide training for Sierra Leone Army troops. The next team, the fourth since June, will be drawn from the 1st Battalion, the Prince of Wales' Own Regiment of Yorkshire, and will be deployed before the end of October. In addition, the British government will provide a package of equipment support for the Sierra Leone Army. Baroness Symons said Britain would also offer officers to fill staff appointments at UNAMSIL headquarters in Freetown and was ready to deploy, if requested, a rapid reaction capability up to brigade strength — approximately 5,000 personnel. The force, which would be based in the U.K. and centered on the Joint Rapid Reaction Force, could deploy in support of U.N. peacekeeping operations. "Final decisions on any deployment would of course remain with the government," she said. "But the speed and scale of our deployment in May is a clear illustration of what we can do, should we judge it necessary and appropriate. To speed up our ability to respond, our deployed headquarters would be capable of taking such a force under command." The minister said the package of assistance to Sierra Leone would cost about $27 million, on top of the $70 million already committed by Britain.
A delegation of eleven representatives from United Nations Security Council member nations divided into two groups Tuesday, with the ambassadors of
Jamaica, Canada, Ukraine, the United States and France leaving for Port Loko, Mile 91, Masiaka and Rogberi Junction, while the ambassadors of Britain, China, Russia, the Netherlands, Bangladesh and Mali visited Kenema and Daru. In Kenema, the delegation drove through streets lined with diamond dealers to visit a Jordanian field hospital and the Ghanaian peacekeeping contingent, and to enter a camp for some 11,000 internally displaced persons, a U.N. spokesman said in New York. At Daru the ambassadors were greeted by a Gurkha honour guard. On Monday, the delegation held separate meetings in Freetown with President Kabbah and Justice Minister and Attorney-General Solomon Berewa to discuss the political, military and humanitarian aspects of programmes the government has set up to address the country's crisis, and to determine how to proceed.
Some 6,000 refugees have returned from camps in Guinea's Forecariah Prefecture to the Lungi area since cross-border attacks began in early September, United
Nations High Commissioner for Refugees (UNHCR) spokesman Ron Redmond said Tuesday in Geneva. The returnees are currently located in villages bordering Kambia District. The Sierra Leone government and the UNHCR have agreed that they will be relocated to about 50 villages in a safe area of the Lungi Peninsula and hosted by the local population. Assistance will be given to the returnees in the form of shelter, seeds and tools, and to the hosting communities, including water and sanitation, educational facilities and construction tools. Another group of returnees is said to be blocked in the RUF-controlled Kambia District, and there have been reports of "significant spontaneous repatriation" from Gueckedou to RUF-controlled Kono District. In both cases, the UNHCR has no access. Meanwhile, a total of 9,337 passengers have returned by boat from Conakry in the past three weeks. Only 1,264 were returning refugees, while the rest were said to have been economic migrants. "While initially the returnees were almost exclusively from Conakry and Forecariah regions, there has been a significant increase in numbers coming from camps in the troubled Gueckedou and Kissidougou regions," Redmond said. On Monday, the UNHCR's Regional Director for West and Central Africa, Abou Moussa, briefed the visiting United Nations Security Council mission on the plight of refugees in Guinea and the security situation in the Guinean refugees camps along the Sierra Leonean and Liberian borders. "UNHCR has requested the government of Guinea to reinforce its security contingent in and around the camps and to identify new sites away from the border, where some 125,000 vulnerable refugees, presently hosted in border camps, could be transferred," Redmond said. "UNHCR estimates $13 million would be needed for the transfer operation." The agency is sending missions to Gueckedou and Forecariah this week to make a new assessment of the security situation there, he said, adding that any sign of improvement could lead to the deployment of a small emergency mission to the camps.
250 soldiers from the U.S. Army's 3rd Special Forces Group at Fort Bragg, North Carolina, along with Europe-based support units, are headed for Nigeria this week, where they will "begin preparations for equipment fielding and training for Nigerian battalions for possible peace-enforcement operations" with the UNAMSIL force in Sierra Leone, Pentagon spokesman Rear Admiral Craig Quigley said on Tuesday. Quigley said the training operation, codenamed "Operation Focus Relief," would train battalions from Nigeria, Ghana and a third country in tactics and in the use of light infantry weapons and communications equipment.
Sierra Leone will take part in a five-day polio immunization campaign next week
which aims to immunize 70 million children in 14 West African countries against the diseases, the United Nations Children's Fund (UNICEF) said on Tuesday. The campaign, which will run from Monday to Friday next week, is part of efforts by U.N. agencies to eradicate the diseases worldwide by 2005. Since the campaign began in 1988, polio rates have dropped sharply from 350,000 cases twelve years ago to 7,000 cases least year. So far this year, 1,149 cases have been recorded. UNICEF spokeswoman Lynn Geldof acknowledged that rebel-held areas of Sierra Leone would not be reached by next week's effort. A second round of mass immunizations is planned for November.
Guinea has reported another attack by armed insurgents near the border town of Pamelap. Guinean authorities said the raid took place early on Tuesday and that the army eventually drove the attackers out of the area, the BBC said. Several Guinean soldiers, including a commander, were injured and one soldier was reported missing.
Exchange rates for the leone against the U.S. dollar and pound sterling, posted in Freetown on Tuesday: [Buying / Selling] Nimo: [$] 2200 / 2400. [£] 3000 / 3400.
9 October: Representatives of eleven United Nations Security Council member nations will see for themselves what is happening on the ground in Sierra Leone, in
order to adjust U.N. mandates to move the peace process ahead, Britain's U.N. ambassador said on Monday. Sir Jeremy Greenstock, who is heading the mission, told reporters that during their three day visit to Sierra Leone the eleven ambassadors, eight of them permanent representatives, would "focus on what is going on here, listen to the people who are trying to make things better here, listen to the people who are suffering here," and deliver a message that it was time for the conflict in Sierra Leone to end. The mission will also visit Mali, Nigeria and Liberia for meetings with West African leaders and ECOWAS officials before returning to New York on October 15. Greenstock ruled out a meeting with RUF leaders, saying that the mission was not there to negotiate.
The Security Council delegation arrived in Freetown on Monday after meeting in Conakry with the Guinean Ministers of Foreign Affairs, Defence and Security, who reaffirmed their country's commitment to regional peace, security and stability, and promised to provide hospitality and protection to refugees from neighbouring countries. The ambassadors also met with the United Nations High Commissioner for Refugees (UNHCR) Regional Director for West and Central Africa, Abou Moussa, about the plight of refugees along Guinea's border with Sierra Leone and Liberia. "UNHCR said anxiety amongst Sierra Leone refugees was causing them to return to insecure areas back home, such as Kambia and Kailahun, and other rebel-held parts of Sierra Leone," a U.N. spokesperson said in New York. The UNHCR emphasised the crucial need for greater protection guarantees from the Guinean authorities, as well as the need to build trust and confidence among the three countries, the spokesperson said. The U.N. delegates, from Bangladesh, Canada, China, France, Jamaica, Mali, the Netherlands, the Russian Federation, Ukraine and the United States, will attend a reception in Freetown Monday evening, to be hosted jointly by the United States and Chinese embassies.
Britain will commit additional officers to UNAMSIL to help ensure that the structure of the force works well, and to help with planning and intelligence, British U.N. Ambassador Sir Jeremy Greenstock said on Monday. According to BBC Freetown correspondent Lansana Fofana, Greenstock said Britain would also send a rapid reaction force to help in emergencies. The British government is expected to make an announcement in the House of Lords this week outlining the government's plans for an expanded role for British forces in Sierra Leone, the Foreign Office said Sunday night.
The peace process in Sierra Leone is "at a standstill," Ambassador Oluyemi Adeniji,
the Special Representative of the United Nations Secretary-General in Sierra Leone, said on national radio and television on Sunday. The Disarmament, Demobilisation and Reintegration (DDR) programme, "though not officially suspended, is in limbo," he added. Adeniji said that despite the RUF having chosen a General Issa Sesay as acting leader in place of the imprisoned Foday Sankoh, contacts with the rebel group were still limited. "Our communication with the new RUF leadership has been very sporadic," he said.
7 October: Britain will increase its military presence in Sierra Leone by hundreds of troops, it was reported on Saturday. A British Defence Ministry spokesman declined to provide details in advance of an official announcement in Parliament next week, but he stressed the troops would remain under British command and would not be sent as part of the UNAMSIL force. The BBC said the new troops were expected to form either an offshore rapid-deployment force, or be based on land to support Britain's training contingent at Benguema and provide support for the U.N. peacekeepers. In New York, Sir Jeremy Greenstock, Britain's Permanent Representative to the United Nations, said his country was "taking decisions now which will continue and reinforce what it is doing on the security side" in Sierra Leone. Greenstock said Friday that Britain was engaged in discussions with U.N. Secretary-General Kofi Annan on how this would "directly support on the ground and offshore" the efforts of U.N. peacekeepers. "In terms of the programme for the retraining, reinforcement and general leadership of the Sierra Leone Army, we will be extending our programme of training, both at the recruiting level and at the level of the headquarters and brigade headquarters of the Sierra Leone Army," Greenstock added.
A photo of two kidnapped Italian missionary priests taken in the company of their
RUF captors appears to indicate they are in good condition. The picture was provided to the Sierra Leone Web on Saturday through the Xaverian Catholic order to which Fr. Vittorio "Victor" Mosele and Fr. Franco Manganello both belong. A diplomatic source indicated that the picture was sent to Bishop George Biguzzi of the Makeni Diocese in late September to prove that the two priests were well. Mosele and Manganello were abducted on September 6 during a rebel raid on the Guinean border town of Pamelap, where they were working to help Sierra Leonean refugees from the Makeni Diocese. They are reportedly being held in Madina, in northern Sierra Leone.
Representatives of eleven of the fifteen U.N. Security Council member nations, including eight permanent representatives and three other ambassadors, were set to depart for West Africa Saturday on a mission to review U.N. peacekeeping
operations in Sierra Leone, and to look at ways to promote stability in the region. The delegation, to be led by British Ambassador Sir Jeremy Greenstock (pictured right), is scheduled to arrive in Conakry on Sunday aboard an RAF-chartered plane, and then to travel to Freetown on Monday for a three-day visit. The diplomats will also hold discussions with the leaders of Mali, Nigeria and Liberia in their respective capitals, as well as officials of ECOWAS, before returning to New York on October 15. At a press conference on Friday, Greenstock said the mission would meet in Sierra Leone with members of the government, UNAMSIL, political and civil society leaders, U.N. agencies, and non-governmental organisations. The itinerary will reportedly include visits to U.N. troops in the field, DDR camps, and displaced camps at Port Loko, Mile 91, Kenema and Daru. Greenstock told reporters that the meetings with ECOWAS officials and regional leaders were due to the fact that the Sierra Leone conflict had contributed to instability in neighbouring Liberia and Guinea. Although Liberia has been accused of involvement in the conflict and of backing the RUF, Greenstock stressed that the meetings with President Taylor and others would be undertaken with a view to solving the region's problems. "Liberia has some legitimate security interests and has apparently been involved in illegitimate activity to deal with the rebellion in Sierra Leone," he said. "We want to find ways with all the leaders that we are seeing in the region, of getting out of the pit that has been dug by this conflict, and to discuss with them how to end illegitimate activity and meet legitimate requirements of all the governments that we talk to."
Exchange rate for the leone against the U.S. dollar, posted in Freetown on Saturday: [Buying / Selling] Nimo [$] 2100 / 2400.
6 October: France will send 39 tons of humanitarian aid to Guinea, French International Co-operation Minister Charles Josselin announced in Paris on Friday. The emergency assistance, to be delivered through the U.N. World Food Programme and the United Nations High Commissioner for Refugees, will benefit Guinean civilians displaced after recent cross-border incursions from Liberia and Sierra Leone, and will also assist Sierra Leonean refugees encamped near the border. Josselin said a cargo flight carrying the aid was due to leave for Conakry on Saturday.
1,759 new internally displaced persons (IDPs) were registered in the Lungi area within the past week, a UNAMSIL spokesperson said on Friday. The IDPs said they had been forced to flee persistent shelling of villages north of the Little Scarcies River, along Sierra Leone's border with Guinea. Registration of the new IDPs was carried out by the United Nations High Commissioner for Refugees in conjunction with the International Islamic Youth League.
Two UNAMSIL Mi-26 helicopters delivered 400 bags of rice, 200 tins of oil and 100 bags of salt to Daru on Thursday, a UNAMSIL spokesperson said.
Seven West Side Boys and and RUF combatant were demobilised on Wednesday, a UNAMSIL spokesperson said Friday. At Wilberforce Barracks, two CDF militiamen turned over one FN rifle, 14 rounds of ammunition, and two rocket-propelled grenade bombs. 60 RUF and one AFRC ex-combatants were screened at Daru on Thursday, the spokesperson said.
5 October: A panel of five experts designated by the United Nations Security Council to investigate the link between diamond smuggling and arms trafficking in
Sierra Leone will talk to individuals, groups, non-governmental organisations and diplomats during a three-day visit to Liberia, the group's leader said on Thursday. Martin Chungong Ayafor of Cameroon told the BBC that the group expected "total collaboration, frank discussions" from the Liberian government, but he acknowledged that the delegation had not yet been informed as to whether a requested meeting with Liberian President Charles Taylor would be granted. Taylor and his government have been accused, most recently by the United States and Britain, of involvement in the illicit diamonds-for-arms trade on behalf of Sierra Leone's RUF rebels, an allegation he has rejected. Ayafor explained Thursday that the purpose of the mission was not to fix blame, but he also stressed that the group would continue its investigations for as long as it took to ascertain the facts. "We are out here to gather information," he told BBC Monrovia correspondent Jonathan Paye-Layleh. "Our visits to the region — notice I said visits — are not limited to one trip to Liberia. If it became necessary that we make as many as ten trips we would consider that possibility." The panel, which during its current trip has held discussions in Burkina Faso, South Africa, Sierra Leone and Guinea, is due to report to the U.N. Sierra Leone Sanctions Committee by the end of October.
United Nations Secretary-General Kofi Annan released a 30-page report Thursday on recommendations for the formation of a war crimes tribunal for Sierra Leone.

The report incorporated the findings of a team of experts led by U.N. Assistant Secretary-General for the Office of Legal Affairs Ralph Zacklin, which was designated to negotiate with the Sierra Leone government over the form of the Special Court. Under the resulting agreement, the court would be composed of two trial chambers with three judges each, and an appeals chamber with five judges. The secretary-general would appoint an international prosecutor and court registrar, while the Sierra Leone government would appoint a deputy prosecutor. The court incorporates elements of Sierra Leonean and international law, and would include both Sierra Leonean and international jurists. Its mandate covers "those most responsible" for the conflict in Sierra Leone, with jurisdiction to prosecute those accused of crimes against humanity, war crimes and other serious breaches of international humanitarian law in connection with the nine-year Sierra Leone conflict, as well those guilty of serious offenses under Sierra Leonean statutes. According to the secretary-general's report, this would include those responsible for mass killings, extra-judicial executions, widespread mutilations, sexual violence against girls and women, the abduction of thousands of children and adults, hard labour and forced recruitment into armed groups, looting, and setting fire to large urban dwellings and villages. In a press conference last week, Zacklin said the court's jurisdiction should cover all those who were in leadership positions, either politically or militarily — likely no more than 25 or 30 defendants. He said the temporal jurisdiction of the court would extend to acts committed since 30 November 1996, the date of the ill-fated peace accord signed between the government and the RUF in Abidjan, Ivory Coast. Both the Abidjan Accord and last year's Lomé Peace Accord granted an amnesty for crimes committed during the Sierra Leone conflict. But Zacklin recalled that U.N. Special Representative Francis Okelo, who signed the Lomé Peace Accord on behalf of the United Nations as a moral guarantor, entered a reservation on the amnesty provision. "It is the view of the United Nations that there is no amnesty for war crimes, crimes against humanity and genocide," Zacklin said. In its August 14 resolution (1315), the Security Council asked that the experts advise on the "advisability, feasibility and appropriateness" of either creating a separate appeals chamber for the court, or of having the court share the appeals chamber used by the international criminal tribunals for Rwanda and the former Yugoslavia. The report recommends in this regard that the court be an "integrated whole," with its own appeals chamber, but that the five appeals judges would be guided by decisions taken by the appeals chamber for Rwanda and the former Yugoslavia. On the difficult question as to whether to prosecute children who committed acts which fall under the court's jurisdiction, Zacklin said the panel had tentatively concluded that 15 to 18 year olds should be prosecuted, but with safeguards. "Such a trial should have to be separated from trial of adults," he said. "They would have to be tried separately, and that the court would have to establish a special juvenile chamber; that the children would be given all kinds of due process protection. Their identity would be protected, and so forth, and of course they will be given psychological counseling and other forms of assistance in the process." Children would not be sentenced to prison, Zacklin stressed. "They may go through a process of accountability, but there is no question of having children sentenced to terms of imprisonment," he said. "They will be placed in rehabilitation and demobilisation programmes, foster care or whatever, but not in terms of imprisonment." In his report Thursday, Annan acknowledged the "difficult moral dilemma" in prosecuting children. "More than in any other conflict where children have been used as combatants, in Sierra Leone, child combatants were initially abducted, forcibly recruited, sexually abused, reduced to slavery of all kinds and trained, often under the influence of drugs, to kill, maim and burn," he said. "Though feared by many for their brutality, most if not all of these children have been subjected to a process of psychological and physical abuse and duress which has transformed them from victims into perpetrators." Zacklin also acknowledged that the court did not have enforcement powers under its current mandate to bring to justice those not in custody. "It's true we have a number of people in detention, but certainly the others who are not in detention that the prosecutor would like to prosecute," he said. "In that case it would be a problem unless you have the enforcement powers." On sentencing he noted that, like other international tribunals, the death penalty would not be an option. "Sentencing will be limited to imprisonment and it will be served either in Sierra Leone or, if circumstances warrant, they may be served in a third country," he said. According to the secretary-general's report, the cost of the Special Court is expected to be about $22 million each year. The only realistic way to fund its operation would be through assessed contributions from U.N. member states, rather than through voluntary contributions as suggested by the Security Council in August, Annan concluded.
The ECOWAS Mediation and Security Council agreed Wednesday to send military observers to the borders of Guinea, Sierra Leone and Liberia in an effort to prevent
an escalation of conflict in the face of recent cross-border incursions by armed groups. In a communiqué issued in Abuja on Thursday, the Council expressed "grave concern over the deteriorating security situation between Guinea and Liberia and Sierra Leone, and deplored the loss of lives and property as well as the displacement of thousands of people." The Council expressed concern over the "lack of progress in the resolution of the crisis" in Sierra Leone since the designation of a new leader by the RUF. It also agreed on an immediate resumption of work by ECOWAS commissions on Sierra Leone, including the Committee on the Cease-fire and commissions of enquiry into the resumption of hostilities in Sierra Leone and on the illegal trade in Sierra Leonean diamonds. The Council called for the reactivation of the Disarmament, Demobilisation and Reintegration (DDR) programme after the deployment of 3,000 additional West African troops pledged to the UNAMSIL force. The DDR programme officially resumed work in August, according to the National Committee for Disarmament, Demobilisation and Reintegration. Operations had been suspended in May after the breakdown in the peace process.
4 October: The Sierra Leone government has taken delivery of forgery-proof certificates from the London security printer De La Rue, meaning that the legal export of diamonds could recommence as early as next week. The Minister of Mineral Resources, Mohamed Swarray Deen, said the certificates arrived on Monday, but that a global ban on the sale of rough Sierra Leonean diamonds imposed by the United Nations Security Council in July would remain in place until Belgian experts could set up an electronic data and communications system capable of monitoring the sale of diamonds at international trading centres. Last week, the U.N. Sanctions Committee on Sierra Leone agreed to recommend to the Security Council that the Sierra Leone government be exempted from the embargo, with the government pushing for a target date of October 12.
Pope John Paul II, speaking Wednesday to some 40,000 worshipers at St. Peter's Square in the Vatican City, called for an end to violence in Guinea against the local population and refugees from Sierra Leone and Liberia. "For weeks, disturbing reports have been received of bloody attacks in Guinea against the local population and against refugees from Liberia and Sierra Leone," the Pope said. "I ask in the name of God that the perpetrators desist from such acts of violence and respect the rights of all, in particular those who are refugees and who are already living in a precarious situation." The Pope also called for the release of two Italian missionary priests, Fr. Franco Manganello and Fr. Victor Mosele, who were abducted by RUF rebels during a cross-border raid on the town of Pamelap on September 6.
United Nations humanitarian agencies are set to meet in Accra on Wednesday and Thursday to map out a strategy to deal with the impending regional crisis set off last month by cross-border attacks into Guinea from Sierra Leone and Liberia, and the resulting harassment of refugees by Guinean security forces and civilians. The agencies will develop a regional humanitarian strategy, harmonise contingency plans, and establish mechanisms for information sharing between the three countries, according to the U.N. Office for the Coordination of Humanitarian Affairs (OCHA).
More than 6,000 Sierra Leonean refugees from camps in the Guinean border town of Forecariah have again been "uprooted and dispossessed," the U.N. Office for the Coordination of Humanitarian Affairs (OCHA) said Wednesday in its latest Humanitarian Situation Report covering the period from September 19 to October 2. Most of the refugees are sheltering in school buildings at Petifu Junction, while the rest are spread out in Barbara, Bailo Wharf and Gbente Wala in Loko Masama Chiefdom, OCHA said. In addition, many residents of Kambia District have fled to Loko Masama and Kaffu Bullom Chiefdoms, where there are already some 35,000 persons displaced during the crisis in May. Refugees have also continued to return to Freetown by boat from Conakry following harassment of Sierra Leonean and Liberian nationals in Guinea last month. According to the United Nations High Commissioner for Refugees (UNHCR), some 7,000 persons have returned to the capital by sea, 70 percent of them women and children. While most of the returnees have joined relatives in Freetown, about 400 people "of concern to the UNHCR" who were unable to return to their places of origin have been moved to the Waterloo Transit Centre. Meanwhile, Sierra Leonean refugees in Liberia, particularly those from the Sinje Camp which has experienced difficulties over the past several months, have continued returning to the Eastern and Southern Provinces in small numbers. According to the UNHCR, an average of four to five families are crossing the border each week, and the number appears to be increasing. At Kabala, Catholic Relief Services (CRS) has reported an influx of 866 internally displaced persons (IDPs) in the past two weeks. The IDPs were fleeing fighting in the towns of Sinkunia and Falaba, in Bramiama Chiefdom, Kambia District, OCHA said. In Tonkolili District, CARE has confirmed the presence of approximately 39,000 people at Mile 91 and four surrounding towns. Of these, 11,000 were residents, while 28,000 were IDPs who either living with residents or staying at the CARITAS Transit Centre.
As of October 2 there were 486,040 persons internally displaced within Sierra Leone, according to figures released Tuesday by the U.N. Office for the Coordination of Humanitarian Affairs (OCHA). Of these, 337,669 were considered "new" cases, persons displaced since the breakdown of the peace process in May. The largest number of displaced were in Northern Province with 298,935 IDPs (internally displaced persons), 240,663 of them new. Eastern Province recorded 90,576 IDPs, 51,997 new since May, and Southern Province showed 24,314 IDPs, 21,442 new. In the Western Area, there 72,215 IDPs were registered, an increase of 23,597 since May.
Gbethi militiamen shot and killed two civilians on September 28 at Rogbai Mabota Junction, between Rogberi and the Rokel Bridge, the U.N. Office for the Coordination of Humanitarian Affairs (OCHA) reported on Wednesday, quoting UNAMSIL. A third victim received a bullet wound in the neck. The civilians were reportedly killed because they refused to be conscripted into the militia. The CDF have continued to maintain checkpoints at various locations despite UNAMSIL orders that they be dismantled, OCHA said. As of the end of September there were nine such checkpoints between Masiaka and the Rokel Bridge. Although the CDF claimed not to be harassing civilians, the militiamen "taxed" civilian vehicles Le 500 at each checkpoint. The CDF were also reported to be maintaining checkpoints at Songo. U.N. peacekeepers deployed in the area confirmed that the CDF was also extorting money from civilians at these checkpoints. Meanwhile, a Sierra Leone Army patrol clashed with RUF fighters September 30 at Matakete, west of Port Loko. One soldier and two RUF combatants were reportedly killed in the fighting. The SLA withdrew to the UNAMSIL position at Rogberi Junction, resulting in an exchange of fire between the RUF and Nigerian peacekeepers (NIBATT-I).
The ECOWAS Mediation and Security Council convened an emergency meeting
Wednesday on the increased tensions in the sub-region, including the conflict in Sierra Leone and fighting along the borders of Guinea, Sierra Leone and Liberia. The meeting was originally scheduled for Tuesday, but was delayed by a day due to the late arrival of some of the delegates.
A panel of U.N. experts investigating the link between illicit diamond sales and arms smuggling in Sierra Leone arrived in Liberia Tuesday at the start of a three-day visit. U.N. officials were quoted as saying the group would meet government officials, opposition politicians, diplomats and business leaders.
UNAMSIL peacekeepers and civilian police (CIVPOL) arrested fourteen persons Tuesday during a cordon-and-search operation in eastern Freetown, a UNAMSIL spokesperson said on Wednesday. Since Freetown has been declared a weapons-free zone, those found in possession of arms and ammunition without proper identification after curfew hours will be apprehended and handed over to police, the spokesperson added. One SLA soldier was arrested with a rifle and four rounds of ammunition, while a civilian who claimed to be a soldier was arrested at the Calaba Town checkpoint with 24 rounds of ammunition. Meanwhile, a 12-year old combatant surrendered to Jordanian peacekeepers at Masiaka and indicated he wanted to join the DDR programme.
The United Nations Security Council was briefed Wednesday on the current crisis in Guinea by the Assistant Secretary-General for Political Affairs, Ibrahima Fall. Fall
discussed the military, humanitarian and political situation in Guinea, which hosts some 333,000 Sierra Leonean and 125,000 Liberian refugees, and noted the impact that recent border clashes might have on the region as a whole, including the effects of possible refugee outflows on neighbouring countries. Following the briefing, Security Council members and representatives of UNAMSIL troop-contributing nations met for private discussions on the U.N. peacekeeping force in Sierra Leone. The U.N.'s Under-Secretary-General for Peacekeeping Operations, Jean Marie Guéhenno, and Military Adviser Major-General Timothy Ford gave briefings on current developments in the country.
3 October: Renewed rebel attacks in Guinea's Forecariah Prefecture have forced nearly 4,000 refugees to flee their refugee camp at Farmoriah, the United Nations
High Commissioner for Refugees (UNHCR) said on Monday. A UNHCR spokesman said the Farmoriah Camp was burned early Saturday morning and the UNHCR warehouse looted. UNHCR staff in Forecariah say the army has asked the local population and refugees to vacate the area. Before the attacks, there were some 32,000 refugees in the area, mostly Sierra Leoneans, but many have left in the last few days. As of Sunday, some 1,500 refugees gathered at three UNHCR regrouping points and were transferred to two camps at Kaliah and Kalako, where they were staying in school buildings. Food distribution, which was scheduled for this week, was put on hold pending an improvement in security conditions there. The UNHCR also expressed concern over inflammatory statements made Sunday by President Lansana Conte, who alleged in a nationwide broadcast that the refugees' presence caused crime, arms and drug smuggling and AIDS in Guinea, and implied that the refugees' presence attracted rebel incursions from Sierra Leone and Liberia. "UNHCR fears these public declarations could trigger further anti-refugee sentiment among the local population and the military," the spokesman said. Some refugees from Farmoriah are reported to have returned spontaneously to Sierra Leone, with several thousand of them having already arrived near Lungi and Port Loko. A group of 5,000 refugees is reported "trapped" in Kambia District, which is currently inaccessible because of the presence of RUF rebels, the UNHCR spokesman said.
Jean Marie Guéhenno, the new United Nations Under-Secretary-General for
Peacekeeping Operations, gave the Security Council an overview of recent developments in Sierra Leone in advance of a Council mission which is due to leave for West Africa on Saturday. The ten member mission, to be led by Ambassador Jeremy Greenstock of Britain, is expected to visit Guinea, Liberia, Mali and possibly Nigeria as well as Sierra Leone. Following Guéhenno's presentation, the new U.N. Military Adviser, Major-General Timothy Ford, briefed the Council on UNAMSIL's military operations, including the possible impact of a phased withdrawal of the Indian contingent.
Ghana's Cabinet has ordered state agencies to take appropriate measures to implement a global ban on the sale of rough Sierra Leonean diamonds imposed by the U.N. Security Council in March. In a statement signed by Cabinet Secretary J.K. Bebaako-Mensah, the Cabinet said the decision had been taken at its September 21 meeting. The statement noted that illicit diamond sales were funding the purchase of arms by rebel groups and fueling the conflict in Sierra Leone. The state agencies included the Ministries of the Interior and Roads and Transport, the Minerals Commission, Ghana Ports and Harbours Authority, and the Ghana Immigration Service.
2 October: Guinean troops fought with unidentified gunmen near the Sierra Leone border over the weekend, Reuters reported on Monday, quoting military sources.
Armed rebels killed one person in the area and ransacked government offices Saturday in the town of Farmoriah, in Forecariah Prefecture, the sources said. The fighting reportedly continued into Sunday evening. Meanwhile, President Lansana Conte (pictured left), who unleashed a wave of harassment last month against Sierra Leonean and Liberian refugees living in Guinea, has called on regional and international organisations to "take all measures to stop these aggressions." "Our country faces serious security problems born out of more than a decade of fratricidal wars in neighboring states," Conte said in an address to the nation late Sunday to mark the 42nd anniversary of his country's independence from France.
The United States began accepting applications Monday from persons eligible to immigrate to the U.S. under the 2002 Diversity Immigrant Visa Program. Under U.S. law, 50,000 visas are made available annually to nationals of countries which have sent fewer than 50,000 immigrants to the United States within the past five years. The winners are selected randomly, and will be notified by 30 September 2002. In order to qualify, an applicant must be a native of an eligible country and must have a high school education or equivalent, defined as the successful completion of a 12-year course of elementary and secondary education, or two years of work experience within the past five years in an occupation requiring at least two years of training or experience to perform. There is no initial application fee, but applications must be received by 2 November 2000. While the number of DV-2002 visas is limited to 50,000, more than that number of persons will be selected because it is likely that some of those individuals chosen will not pursue their cases to visa issuance.
A weekend clash between government soldiers and CDF militiamen at the Magbele Bridge left one SLA soldier dead and three more injured, UNAMSIL military spokesman Lieutenant-Commander Patrick Coker told reporters on Monday. Nigerian UNAMSIL troops at Port Loko intervened in the fighting and arrested 12 militiamen, who were subsequently turned over to the police at Port Loko, he said. Reuters quoted military sources as saying the fighting erupted when soldiers ordered the militia to dismantle a roadblock they had set up.
The ECOWAS Defence and Security Council is set to meet Tuesday in Abuja,
Nigeria to discuss mounting tensions in the sub-region, including renewed violence in and around Sierra Leone. "(The Council) will consider the situations in Ivory Coast, Guinea-Bissau, Sierra Leone, as well as the security situation along the Guinea-Liberia border," ECOWAS said in a statement issued on Monday. Ministers from Nigeria, Benin, Gambia, Ghana, Guinea, Ivory Coast, Liberia, Mali, Senegal and Togo were expected to attend the meeting.
13 civilians who arrived in Port Loko from Makeni via Lunsar have handed over a letter to Nigerian peacekeepers (NIBATT I) from the RUF commander in Lunsar asking that the road from Rogberi Junction to Lunsar be reopened for civilian use, UNAMSIL spokeswoman Hirut Befecadu said on Monday. The 13 civilians — five men, three women, and five children — were taken to the Nigerian battalion headquarters for screening and later released.
Nigerian peacekeeping troops (NIBATT II) turned over five West Side Boys commanders to police on Sunday after screening determined they were criminals, UNAMSIL spokeswoman Hirut Befecadu said on Monday. The five were identified as Corporal Osman Sesay, Mohamed Sidique, Mohamed Savage, Mohamed Bangura and Samuel Kargbo. 188 other members of the West Side Boys militia were also screened and sent to a DDR camp. Meanwhile, 55 RUF combatants reported to the DDR camp at Daru without their weapons over the weekend. An SLA soldier also reported to the camp at Daru for disarmament, and handed over a shotgun, one magazine, and 23 rounds of ammunition. On Friday, the UNAMSIL military observer team at Bo disarmed two CDF combatants at the NCDDR office. The two militiamen surrendered one G3 rifle, one FN rifle, and 31 rounds of ammunition.
Sierra Leone is among 34 African countries which will qualify for greater duty-free

and quota-free access to American markets under legislation passed by the Congress in May, President Bill Clinton announced on Monday. "We will help promote economic development, alleviate global poverty and create new opportunities for American workers and businesses,'' Clinton said in a statement. U.S. officials noted that Sierra Leone had a market economy and an elected government, but acknowledged that the continuing conflict would make it difficult for the country to benefit from the new trade opportunities in the near future. Fourteen African nations did not qualify for the programme, either because they did not meet requisite labour standards, because of political instability, or because of failure to carry out economic reform. Those deemed ineligible were Angola, Burkina Faso, Burundi, Democratic Republic of Congo, Comoros, Ivory Coast, Equatorial Guinea, Gambia, Liberia, Somalia, Sudan, Swaziland, Togo and Zimbabwe.
The United Nations Security Council will be briefed Tuesday on the situation in Sierra Leone by the new Under-Secretary-General for Peacekeeping Operations, Jean Marie Guéhenno, and the new Military Adviser, Major-General Timothy Ford.
1 October: Zambia will replace its troops in UNAMSIL when the term for its first contingent expires in December, Defence Minister Chitalu Sampa told the Times of
Zambia on Sunday. "We will in December this year send about 700 other soldiers to replace those who are there. Every six months we have to change and send other soldiers," Sampa was quoted as saying. Zambia has come under widespread criticism for sending poorly-equipped peacekeeping troops to Sierra Leone. 428 members of the 776-man Zambian contingent were captured by the RUF in May and later released. Three more Zambian soldiers are listed as missing in action and presumed dead, and one Zambian peacekeeper died in June after contracting malaria.